Health care
Wormy water
About 250 million people, including many children, are infected with the insidious tropical disease schistosomiasis. Up to 200,000 a year die of it. Schistosomiasis is transmitted in water by parasitic worms and often remains undiagnosed after infection. Untreated, it has serious consequences for the health of those infected. Effective medications have been on the market for decades, but the majority of patients in Africa do not have access to them.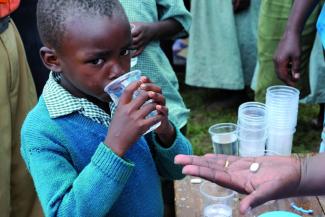 Merck Serono
Schistosomiasis – also known as bilharzia – is especially rife in the countries of sub Saharan Africa. There are villages where nearly everyone is infected. The infection rate is particularly high among children. They pick up the parasitic worms that cause the disease while bathing, fishing or playing. And because they are often exposed to repeated infection, the consequences are particularly devastating.

Those infected with schistosomiasis have learning difficulties, suffer from constant fatigue and remain generally retarded in their development. Even at a young age, organs can become affected. In severe cases, tissue damage or cancerous growths occur in the particular organs. In the worst case, the result is  death. Young girls with genital schistosomiasis suffer from bleeding and painful, malodorous excretions. There is also mounting evidence that this form of schistosomiasis leads to a significantly increased risk of infection with HIV/AIDS and other sexually transmitted diseases.

Infected children are often unable to go to school. The consequences for their occupational future are stark. Both the economy and society of a country suffer accordingly. The only drug that can be used to treat all forms of schistosomiasis is praziquantel. Developed by Merck, a German corporation that is active in health care, life science and performance materials, in a cooperative research project in the 1970s, it is on the World Health Organization's list of essential medicines. It has proven to be tolerated well by patients.

Praziquantel is a broad-spectrum drug used to treat not just schistosomiasis but also a wide range of worm infections in animals. In human medicine, it has been in use worldwide since the 1980s. Its main target is schistosomiasis but it is also effective against taeniasis, an intestinal infection caused by pork and beef tapeworms.
Last year, the World Health Organization (WHO) unveiled a roadmap for eliminating schistosomiasis and other neglected tropical diseases as a public health problem within the foreseeable future. It will be a long haul, requiring the cooperation of many partners and decisive changes in the health-care systems of the countries concerned.

The WHO's efforts to control bilharzia in Africa have been supported by Merck since 2007. In a programme viewed by Merck as an important component of responsible corporate governance, the company donates praziquantel tablets to the WHO. The WHO will supervise the distribution to African schoolchildren, most of whom live in remote areas without proper infrastructure and appropriate health care. The total number of tablets donated currently exceeds 200 million and more than 54 million patients, predominantly children, have been treated. The programme was originally set to run only until 2017 but at the end of 2011 Merck decided to continue its involvement indefinitely.

The goal shared by Merck and the WHO is to eliminate schistosomiasis in Africa. To achieve it, the company will increase the number of tablets it donates up to 250 million a year. That donation, worth around $ 23 million a year, will enable around 100 million children a year to be treated.
Merck is also working on improving the formulation of the pill. Pharmaceutical experts are currently working on a new coating, for example, which will not only make it easier to swallow the pills but also facilitate longer transport times. The company is also leading a consortium conducting research on a new formulation for young children, who cannot be treated at present because praziquantel tablets are suitable only for children over six.


The long road to elimination

It will take more than just medication to eliminate schistosomiasis; action also needs to be taken to control snail populations, because snails are temporary hosts of the bilharzia worms (see box), and to improve sanitary conditions. Without toilets and sanitary installations, the cycle of infection cannot be broken because rivers and lakes are constantly polluted with infected faeces.

Merck is aware of the complexity of the challenge and sees the provision of praziquantel tablets as only part of the solution. Not long ago, the Darmstadt-based company has joined a global alliance against schistosomiasis. Other partners include the Bill & Melinda Gates Foundation, the Schistosomiasis Control Initiative, the US Agency for International Development (USAID) and World Vision International. The initiative provides a very good platform for bringing together all interested parties and reaching a tipping point in the schistosomiasis elimination campaign.
Jutta Reinhard-Rupp heads the Global Health programme on tropical diseases at Merck Serono, the biopharmaceutical business of Merck.
jutta.reinhard-rupp@merckgroup.com