Mining & Fisheries
Casting a wide net
It's not often that a mining company dives into the fishing business. But in the mining region of Zambia's North-Western Province, Kalumbila Minerals Ltd (KML) has done exactly that. The company recently put a large quantity of fish in two dams that it had built to facilitate its mining operations.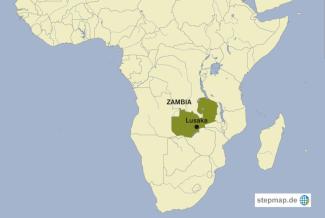 stepmap.de
In particular the company, a subsidiary of First Quantum Minerals, put 30,000 young fish of the species Tilapia, green bream and yellowfin bream into freshwater dams at Chisola and Musangezhi.
The action is part of KML's corporate social responsibility programme, aimed at presenting itself as socially and environmentally responsible. It is also a way to defuse any remaining objections that environmentalists, farmers and local residents raised when the dams were first built nine years ago.
"We cast our net wide with putting 30,000 fingerlings (young fish) into the ecosystem," says KML general manager Sean Egner. "We are not doing this just to meet a compliance obligation. We are affirming our commitment to extract resources responsibly. Our sustainability strategy is part of everything we do."
In addition to contributing to the environment, KML hopes to boost the region's fishing industry. Despite Zambia's many water resources, which include lakes, rivers and streams, the country's fishing and aquaculture industries face many challenges.
According to a 2020 econometric analysis by agricultural experts Emmanuel Chibanda Musaba and Enedy Namanwe, constraints on fish production in Zambia include: "high feed cost, poor extension services, poor marketing support, inadequate storage facilities, limited capital, poor power supply, predators, high cost of pond construction, high fish prices and inadequate water supply." The study was published in the International Journal of Research Studies in Agricultural Sciences.
In addition, the sector suffers from a lack of adequate fish seed and feed supplies. As a result of all these issues, Zambia is a net importer of fish, with most of its supply coming from China.
Local officials praise KML's contributions both to the environment and to replenishing fish stocks. "We are really pleased with KML management's initiative to restock the Chisola and Musangezhi dams with fingerlings," says Alick Mbewe, a technical officer at North Western Province's Fisheries Ministry. "We encourage other stakeholders to emulate KML."
Moreover, restocking of fish should not be a one-time event. Water bodies need to be restocked frequently with a variety of species to meet high consumer demand for fish, according to Mbewe.
Before putting small fish into the two dams, KML took advice from North-Western Province's fisheries department. The company is also working with a local Community Resource Board to develop good strategies for managing fisheries. The aim is to manage all water ecosystems within the mines' catchment areas in a sustainable way, Egner says.

Link
Chibanda Musaba, E., and Namanwe, E., 2020:  Econometric analysis of socio-economic factors affecting smallholder fish production in Kabwe District, Zambia. International Journal of Research Studies in Agricultural Sciences.
https://www.arcjournals.org/pdfs/ijrsas/v6-i2/2.pdf

Derrick Silimina is a freelance journalist based in Lusaka. He focuses on Zambian agriculture and sustainability issues.
derricksilimina@gmail.com