Foreign trade
Mozambique's trade with ­Germany
Germany imports coal from the Tete mines, raw aluminium from the MOZAL smelter near Maputo and tobacco from central Mozambique. Gemstones, including rubies, round out the import portfolio.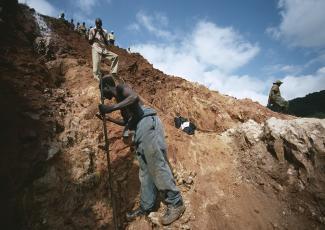 Photoshot/picture-alliance
This pattern has been comparatively stable for years. The export of raw graphite was recently added because a German firm commissioned a graphite mine. Conversely, sugar imported from Mozambique has lost its former relevance.
The trade volume between Germany and Mozambique amounted to about $ 400 million in 2018, compared with $ 330 million in 2017 and about $ 300 million in 2016. Unlike in its relations with most of its foreign trade partners, Germany has not done much to achieve an export surplus with Mozambique. In 2018, the trade deficit was $ 150 million – about 25 % less than in the previous year.
Germany exports machines, chemicals, vehicles and electronic devices as well as grain to Mozambique. The exports tend to be project-related and therefore vary considerably from year to year. It is striking that Germany exports grain, which is used in the bread and baking industry, to Mozambique. Generally speaking, German companies primarily see the country as a sales market. They hardly invest in Mozambique and thus create rather few jobs. They perceive the country merely as a sales market.