Regional integration
Far from united
Despite many attempts for regional integration in sub-Saharan Africa, things don''t look good at the moment. In several of the continent's regional blocks, national interests outweigh joint action.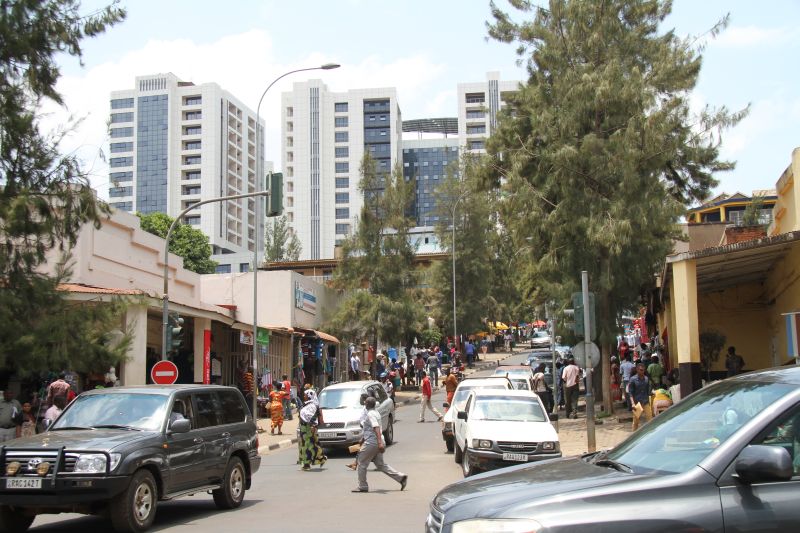 kd
There are eight regional economic communities (RECs) in Africa, plus a number of customs unions, two monetary unions and several other structures that serve regional integration.
Arguably the strongest REC in sub-Saharan Africa is the East African Community (EAC), comprising Burundi, Kenya, Tanzania, Rwanda, Uganda and most recently also South Sudan. Claver Gatete, Rwanda's minister of finance and economic planning, is convinced that regional integration is essential for his country's economic success. "You cannot have a growing economy without trade and a good environment for business." In his eyes, "its good to start from the region, then we can see how to deal with the rest of the world."
A number of things have improved since the start of the EAC in 2000, according to Gatete, for instance:
The number of days it takes for goods to travel from Kigali to Kenya's port city Mombasa – or vice versa – has been reduced from 21 to a mere five days.
Mobile phone roaming fees have been abolished within the EAC.
Insurance companies sell the same policies in the entire region.
The four central banks include the region's other currencies in their foreign-exchange reserves, and the dollar is no longer needed for inner EAC-trade.
Nevertheless, inner-African trade is small. According to Bernard Hoekman of the European University Institute in Florence, inter-African trade makes up about 10 % of African countries' foreign trade, with some countries trading close to nothing within the continent. The regional organisations thus do not make a big difference.
Hoekman adds that it actually makes more sense for African countries to export to overseas markets because they mainly produce the same commodities and goods as their neighbours do. Accordingly, attempts to join forces with neighbours to deal with the big players in world trade including the EU, the USA and China have not been very successful even though, in principle, regional organisations should have more negotiating power than individual countries due to their bigger markets. A huge problem is that Africa's trade costs are the "highest in the world", Hoekman points out.
Appreciating the EAC achievements that Minister Gatete praises, the European Scholar warns: "The rest of the world has made progress too." In his eyes, the EAC must do more to gain a competitive edge, and a lot is still missing to make regional integration move ahead.
Minister Gatete is aware of the need to act. He deplores that the EAC lacks common infrastructure, be it railways or electric power grids, even though the issue has been on the agenda for a long time. Moreover, the private sector could show more enthusiasm, according to the Rwandan politician. He admits that there are reasons to doubt that being a member of the EAC and three other RECs has really helped Rwanda much (also see D+C/E+Z e-Paper 2016/09 p. 12 ff.).

Decisions without implementation
François Kanimba is Rwanda's minister of trade and industry. He wants the EAC to become better at implementing rules and regulations. "We take decisions, but there is no implementation", he said at a recent conference in Kigali. It was organised by the Poverty Reduction, Equity and Growth Network (PEGNet) in collaboration with the Institute of Policy Analysis and Research-Rwanda (IPAR-Rwanda).
Even if Rwanda does everything right, it will not advance unless the other REC members pull in the same direction. Size matters, and African countries must cooperate on creating big markets, Kanimba says: "We have to attract foreign direct investment in services and infrastructure. But they only come if they have the opportunity to trade beyond borders."
Andreas Beckermann of Germany's Federal Ministry for Economic Cooperation and Development agrees. Foreign investors need a large amount of goods "reliably, of the same quality, on time", he explains. On their own, small, landlocked countries like Rwanda cannot ensure these things.
The EU has negotiated Economic Partnership Agreements (EPAs) with regional organisations in Africa, the Caribbean and Pacific. One goal is to ease trade. The EPAs grant developing countries full access to EU markets, but allow developing countries transition periods before they open up fully. There is thus some scope for protecting sensitive sectors. The negotiations went on for years, and most countries, including Rwanda, have signed the agreements. Not a single EPA, however, has been ratified yet.  
The agreements with the EAC and ECOWAS (Economic Community of West African States) were meant to be signed this year, but there are problems. In the EAC, Tanzania is worried that opening up the market to European manufactured goods may harm industrialisation in East Africa. In West Africa, Nigeria has expressed similar fears. The EU has set a deadline of 1 October, but an extension seemed likely when this article was written in late September.

"Dramatic situation"
Helmut Asche from the University of Mainz warns: "If the EPAs fail, that's the end of African integration in the form of the current RECs." In this case, he expects Africa to go back to loosely connected free trade agreements instead of following the example of regional integration set by the EU. "The situation is really dramatic now," Asche says.
Most participants at the PEGNet conference agreed that the EU is no model for Africa because the conditions are very different. A main hindrance for deep integration is that African states are institutionally weak.
However, the EU's current crisis and looming disintegration matter too. Britain's vote to leave the EU matters in particular, and it has an immediate bearing on Africa: it now seems likely that the EPAs will not provide access to the important British market.
Gbenga Obideyi is a trade director with ECOWAS. He sees the region at risk of disintegration. Three of the 16 countries covered by the West African EPA (all ECOWAS members plus Mauretania), have not yet signed. Mauretania has to sign an association agreement with ECOWAS first, but that process is currently stuck in the Mauritanian parliament, according to Obideyi. Nigeria, by far the bloc's strongest economy, is considered the biggest problem, because it is citing serious concerns. Gambia, however, is not signing out of solidarity with its "big brother" Nigeria.
In the meantime, ECOWAS members Ghana and Côte d'Ivoire have ratified so-called interim EPAs. They are thus going their own way. Obideyi says: "If the remaining countries are not going to sign, we will have several different trade regimes." The ECOWAS secretariat is trying to convince Nigeria and Gambia to reconsider their stance before the October deadline, but it cannot impose sanctions.
The continents' south has regional integration problems too. South Africa is not happy with the South African Customs Union (SACU), explains Peter Draper, director of Tutwa Consulting, a company that specialises in trade and investment. "Plans to leave SACU have long been on the table", he says. If it happens, Africa will have its own Brexit – the "Sexit", as Draper dubs it. That would mean following the EU's example in the least appreciated way.
Katja Dombrowski