Food security
Dramatic threat to maize harvest
A new pest is threatening maize crops and thus undermining food security in various African countries. It is called the armyworm, but is really a kind of moth, the caterpillars of which eat their way through vegetation at their march across fields. The pest is native to North and South America and was first identified in Africa in 2016. Its presence has been confirmed in West Africa as well as in the South and East of the continent. Ghana, Nigeria, South Africa and Zambia are among the affected countries.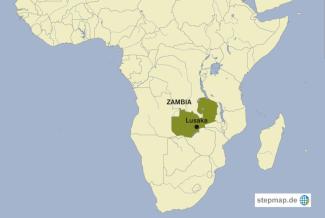 stepmap.de
The armyworm's scientific name is spodoptera frugiperda. It is a kind of moth that spreads very quickly. The caterpillars feed on almost anything: maize, soy, peanuts and potatoes. The impact on maize is worst. Young plants die completely. In older plants, the caterpillar destroys the corncob from inside. The farmers only notice too late that their fields are infected. Depending on the extent of the infestation, 15 % to 73 % of the harvest is destroyed.
The UN Food and Agriculture Organization (FAO) held an emergency meeting in Harare, Zimbabwe, in mid-February. At least seven Southern African countries are now affected. Their people make up more than 70 % of the total population of Southern Africa. According to David Phiri, the FAO's subregional coordinator, "the armyworm is a new threat in Southern Africa, and we are very concerned with the emergence, intensity and spread of the pest. It is only a matter of time before most of the region will be affected."
At the emergency meeting, 16 African countries agreed on plans of action. They fast want to boost the region's capacity to manage emerging crop pests and livestock diseases by strengthening early warning systems as well as response and preparedness plans.
According to Dora Siliya, Zambia's minister of agriculture, the armyworm had destroyed an estimated 124,000 hectares of cultivated maize fields in the country by mid-February. Such destruction may lead to food insecurity in Zambia and neighbouring countries Malawi and Zimbabwe, which depend on imports from Zambia. The armyworm also destroyed maize fields in Malawi in the current farming season.
Zambia's President Edgar Lungu ordered the Zambian Air Force to assist in distributing chemicals to control the pests. However, not all the farmers have access to the chemicals. Farmer Maria Chilonga says that she had to resort to using washing detergent. "I smeared detergent on the maize leaves," she reports. "Some of the worms died, but most of my crop was destroyed."

Humphrey Nkonde is a journalist and media researcher based in Ndola, Zambia.
zpeopleandplaces@gmail.com