Gender
Changing social norms
The civil-society organisation Bangr Nooma has been fighting to end female genital mutilation (FGM) in Burkina Faso since 1998. Although FGM is forbidden by law, it is still quite common. Government interventions alone cannot stem the harmful tradition. Civil-society activism is needed to eradicate FGM in remote areas. Irma Bergknecht and Renate Staudenmeyer of the German non-governmental organisation Terres des Femmes discussed matters with Rakieta Poyga, a women's rights activist and the founder of Bangr Nooma.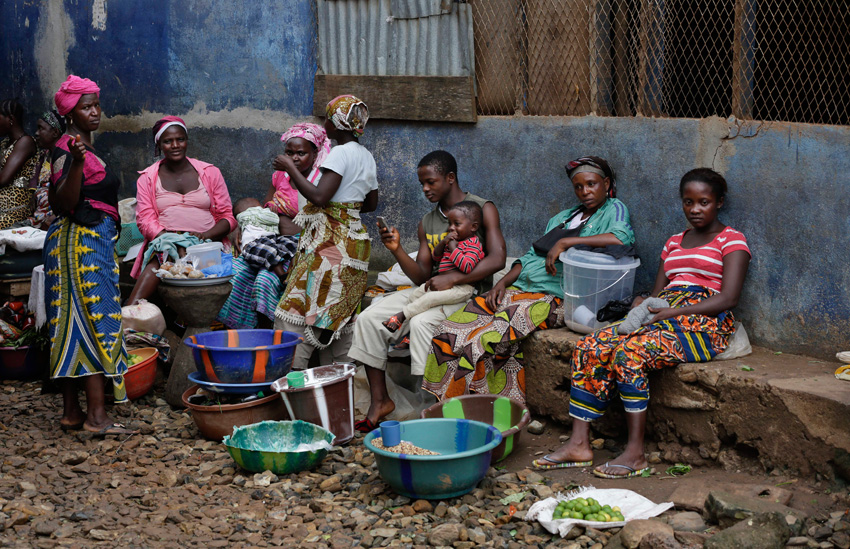 AP photo/picture-alliance
What is the current situation in Burkina Faso concerning female genital mutilation?
Unfortunately, FGM is still widespread in Burkina Faso. The legal ban that was introduced in 1996 has not changed much. UNICEF data show that, in 2013, 76 % of women and girls had become victim of this harmful tradition practice. The women of my generation – I was born in 1960 – are almost all circumcised. Only by looking at rates among younger women, you slowly start to notice that FGM is no longer universally applied. Burkina Faso has currently experienced a serious political crisis, so restabilising the polity tops the agenda. Women's and children's rights did not get much attention to begin with, and they are at risk of being crowed out. We must focus on our goals.
What kinds of FGM are practiced in Burkina Faso?
Two different kinds are practiced here. The most common procedure involves the full or partial removal of the clitoris. In the second type of procedure, both the clitoris and the labia minora, and sometimes even the labia majora, are fully or partially removed. Circumcisions are usually performed in unsanitary conditions. The procedure often traumatises women, and many also suffer from medical complications such as cysts, adhesions, fistulas, et cetera. I experienced terrible consequences of female circumcision myself, during the unbelievably painful birth of my daughter in 1998. That was my impetus to found Bangr Nooma.
Why is FGM still being practiced even though the adverse impacts are well understood?
FGM is deeply embedded in Burkinabé tradition. It is rooted in traditional and religious values. Women and girls can traditionally only get married after being circumcised, so FGM is a precondition for marriage. Ideas about honour are distorted, and accordingly a girl's circumcision is very important to her family's reputation. In addition, circumcisers see FGM as a kind of "social service", though in reality that is how they earn a living. The more circumcisions they perform, the better their reputation becomes in the village, and the reputation of the village chief benefits equally. Since FGM was outlawed in Burkina Faso, girls have been circumcised at younger and younger ages, sometimes even as infants. We need new intervention strategies in response to this problem.
You said that FGM has been prohibited by law in Burkina Faso since 1996, but nevertheless most women and girls are affected. Why is that so? Are traditional and religious values stronger than legal norms?
Over 80 % of Burkinabés are illiterate and hardly leave their village communities. They feel isolated from the rest of the country, and think that the law does not apply to them, but rather only to people living in the cities. They see the ban on FGM as an attack on their traditional values. So yes, to them traditional and religious norms matter more than state regulations. The government needs to reach out to the people of rural communities in order to make them aware of the problem. Local educational campaigns are the key. Blaise Compaoré, the ousted president, actually held a meeting every year in a provincial town with officials and village chiefs to discuss FGM. However, only the elite took part, and the new awareness never spread to the village communities properly. Our awareness-raising affects many more people. We go to villages and talk to all residents. Doing so requires a great deal of patience and effort. But ultimately it's worth it. Most people reject FGM after they have heard what we have to say. As soon as they know how damaging FGM is, they understand why the legal ban makes sense.
What happens when it is discovered that a circumcision occurred – are there criminal prosecutions?
When it becomes known that a circumcision is planned or has already taken place, everyone involved is punished in criminal proceedings. Not only the circumcisers are prosecuted, but also everyone who knew about the incident and failed to report it to the authorities. The maximum penalty is a three-year prison sentence. Where we work, the awareness of FGM is very high. People intervene as soon as they hear of a case, and that includes the village chiefs and the so-called guardians of tradition.
How does Bangr Nooma manage to convince traditional chiefs and ordinary people of saying "no" to FGM?
Before we do anything else, we seek the consent of the respective village chief, because without his approval our efforts will go nowhere. Next, we carry out a three-phase educational campaign. The work is always done by a team that consists of one man and one woman who have been trained by Bangr Nooma. Their task is to raise awareness in the region concerned. In the first phase, the team tries to start discussions with influential community members like teachers, police officers, traditional midwives and circumcisers. The second phase focuses on the entire village population. We share knowledge and information. We visit homes, talk with families, hold town meetings, stage sketches and films, debate the issues and so on. Often it takes time to earn the people's trust and for them to realise that FGM can and should be overcome. At the end of this phase, we have a big meeting during which all the important village leaders publicly reject FGM and declare non-circumcision to be the new social norm. During this ceremony, we symbolically "bury" the instruments used for circumcision. The third phase starts with the establishment of a village committee to fight FGM. Volunteers watch to make sure that no more girls in the village are circumcised. They keep a register of births and make visits to families who have given birth to a girl in order to raise awareness.
What are the greatest challenges your awareness-raising campaigns have faced?
Our particular challenge is earning the people's trust. This is quite difficult given the isolation of village communities that I've just mentioned. You must also picture the areas we operate in as slum-like: infrastructure is very poor and everything is chaotic. The people are struggling with existential problems; they have no access to water or electricity and they live in extreme poverty. Instead of thinking about FGM, they are dealing with problems that seem much more pressing. Only once we have earned their trust people do absorb the new information and accept the knowledge that we want to convey. Especially when it comes to interacting with the public, we as an NGO are better positioned than state actors because people still hardly trust the state and its agencies. I am convinced that the work being done by NGOs is very important and much more effective.
Are there tangible results?
Yes, absolutely. Thanks to our educational efforts in 800 villages, over 33,000 girls have been protected from circumcision to date. Our numbers are quite reliable because the village committees keep registers of births. Furthermore, 400 circumcisers and their assistants have rejected FGM and are now involved to some extent in our campaigns. Since we started the organisation, we have reached a total of over 800,000 people. The support from our international partners has been very helpful. We do not receive any financial support from the state, so we depend on help from the outside. Such help doesn't only consist of financial assistance. International networking and professional exchange about strategies to fight for and improve women's rights matter very much as well.

Rakieta Poyga is a Burkinabé women's rights activist and the founder of the organisation Bangr Nooma.
bangr.nooma1@yahoo.fr