Extreme weather
USA increasingly hit by weather-related disasters
The USA is increasingly hit by weather-related disasters. Wildfires, heatwaves, hurricanes and floods are becoming more frequent, more dangerous and more costly. So far, this trend has not led to more resilience-oriented legislation. It would be good to stop speaking of "natural" disasters when it is human-made climate change that is causing serious damages.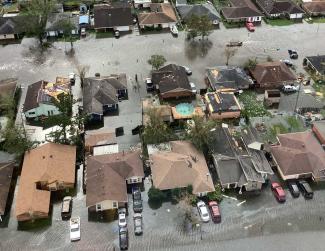 picture alliance / ZUMAPRESS.com / USCG Heartland
This year's wildfire season started early. Normally, the American West and Southwest have blazes from May on, but in April 2022, about 200 homes were lost to wildfires in New Mexico. Last year's wildfire season had ended late, with flames destroying homes in the Denver-Boulder area of Colorado in late December. Only three winter months were conflagration-free.
In 2021, over 8000 fires burnt millions of acres. The background is that most of the American West is experiencing a long lasting drought, which makes wildfires more likely. The impacts also include crop failure and ecosystem collapse. Cities in California and Arizona are grappling with the ways to conserve dwindling water supplies. The normally cool Pacific Northwest, moreover, was hit by an unprecedented heatwave with temperatures rising to almost 50 degrees Celsius, which is considered hot even in Pakistan. In Canada and the USA, an estimated 1400 more people died than would normally have happened.
Even though western states are hit hardest by wildfires, the impacts are felt from coast to coast. The whole North-American continent can expect another summer of apocalyptic hazy skies and toxic air pollution from the smoke.
Hurricanes and floods are extremely costly
In 2021, 47 global disasters cost more than $ 1 billion in 2021. Almost half of them affected the USA, even though this country is not especially climate vulnerable. Hurricane Ida hit Louisiana in August. It was the world's most expensive natural disaster in 2021, costing $ 65 billion in recovery. It claimed more than 100 lives in the USA and Venezuela. This year's hurricane season is again expected to be "above average".
Floods are getting worse too. Not all are caused by hurricanes, which tend to bring more rain than they did in the past. New flood-risk mapping shows a 26 % increase in flood risk across the USA. Black communities along the southern coasts of the Atlantic and Gulf of Mexico are exposed most. Wealth disparity and segregation matter very much. Poor and marginalised neighbourhoods have less adaptive infrastructure, are more likely to be located in unsafe places and generally get less government funding.
The federal budgeting office expects extreme weather to cost the US an annual $ 120 billion for coastal disaster relief, flood insurance, crop insurance, health-care insurance and wildfire suppression. To keep costs from rising, all government agencies should prioritise climate mitigation and adaptation. It is a matter of self-interest. At the same time, the USA bears global responsibility given its outsized contribution to humanity's greenhouse-gas emissions.
Depressingly, federal-level action at the scale required seems unlikely to happen anytime soon. President Joe Biden's sensible policy proposals are stuck in the Senate (see my essay on www.dandc.eu). Biden wants $ 44.9 billion in federal climate funding next year, but that would not be enough. State and local governments must act too.
This is not natural
Reactionary policymakers and their allies in conservative media want everyone to believe the disasters are nothing special. To some extent, they are successfully making them appear to be normal. 
Public opinion surveys conducted by scholars from Yale University show that not even two thirds of Americans say that global warming is affecting the weather. Indeed, people who are especially exposed to extreme-weather events in the Southeast states are less likely to talk about global warming than the rest of the country. Part of the problem is that we still call extreme-weather events "natural disasters", even though they are actually caused by our unsustainable habits (see Hans Dembowski on www.dandc.eu), and that is why environmentalists, for quite some time, have been demanding a change of wording.

Katie Cashman is a project coordinator and climate policy associate with the Minnesota Center for Environmental Advocacy (MCEA). The views she expresses in D+C/E+Z are hers, not those of the MCEA.
kcashman23@gmail.com