Flooding
Pakistan is paying price for neglect of climate adaptation
Pakistan is suffering impacts of the human-made climate crisis, to which its people have hardly contributed. Policymakers, however, have irresponsibly failed to prepare the nation for the impacts.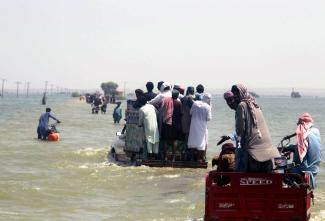 picture alliance / EPA / REHAN KHAN
Rain-induced floods have devastated homes, roads and crops. Education, health and electricity infrastructure is failing in most parts of Pakistan. The country's already fragile economy is on the verge of collapse. 
The unexpected torrential rains started in the middle of June. They have affected over 33 million people. Hundreds lost their lives, according to Pakistan's National Disaster Management Authority (NDMA). Hundreds of thousands have lost their homes. They had to flee to relief camps and other safe places as cities, towns and villages were inundated.
Food prices have skyrocketed in view of lost harvests, so many people's food security has become precarious. In early September, about one third of the country was under water, so the next sowing season may also be affected. Experts reckon, moreover, that over 900,000 farm animals were lost.
International support
The cash-strapped Pakistani government has only limited resources. International aid agencies have geared up their efforts to save the people from starvation, extreme weather and waterborne diseases. Visiting the country, UN Secretary-General António Guterres urged the world to help as a matter of "justice". Pakistan estimates the cost of flood damages at $ 30 billion.
Pakistani officials and experts point out that the country is feeling the impacts of climate change, a human-made phenomenon its people have hardly contributed to. Pakistan's share of annual global greenhouse-gas emissions is not quite one percent though it accounts for almost three percent of the world population. By comparison, Germany is home to one percent of the world population, but emits two percent of climate-relevant gases.
The floods can indeed be called a "climate catastrophe". First, there was an unprecedented heat wave, followed by unusually strong monsoon rains. Parched earth does not allow water to percolate. Moreover, the high rate of glacier melting meant that more water than normal was running in the rivers.
In political and economic terms, Pakistan was ill prepared for this kind of disaster. Earlier this year, Prime Minister Imran Khan was ousted, and the new government relies on a multi-party coalition with many internal frictions (see Marva Khan on www.dandc.eu). In late August, the International Monetary Fund (IMF) agreed to release $ 1.1 billion in funding for the country to help it revive its economy.
Pakistani policymakers are demanding reparations, given that the nation can be considered an innocent victim of harm brought about by others. Pakistan's responsibility in terms of mitigating climate change is indeed tiny, but our authorities have paid far too little attention to adaption. Poor governance, lack of planning and the lack of adaption strategies have compounded this year's disaster.
It adds to the problems that municipal authorities are weak in Pakistan and rules often remain unenforced. The floodwaters have destroyed many houses that were built illegally close to riverbeds. To a large extent, poverty makes people encroach and settle on unsuitable land. The mud huts that poor people rely on were washed away fast. In many places, however, brick structures, including houses, hotels and restaurants, stood in the wrong places and could not withstand the force of the floods either.
Lessons not learned
Similar damages occurred in 2010 when large parts of Pakistan were also submerged. The lessons were obviously not learned. Provincial governments and local authorities did not ensure implementation of relevant laws to stop such illegal construction activities. This time, there was even more water and it caused even more harm.
Successive national and provincial governments have failed to prepare the country. Policymakers have paid very little attention to the climate crisis. The nation urgently needs good adaptation policies and implementation must follow fast. Otherwise, future events are likely to prove even more devastating that the current floods. Our nation is not to blame for global heating, but  unless we prepare better, we will not be able to cope with it.

Imran Mukhtar is an Islamabad-based journalist.
imranmukhtar@live.com