Poverty
Women crushing stones
The high cost of living in South Sudan has pushed women toward hard jobs to eke out a living. They work as quarrywomen, crushing stones for survival.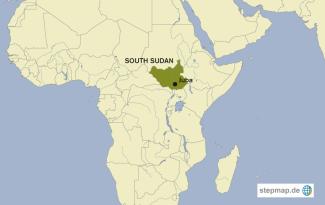 stepmap.de
As a reckless elite of the country's politicians has been amassing  fortunes in the world's youngest nation, millions of their citizens suffer poverty. Three years of war have exacerbated the problems.
Armed with only strong lungs and the will to survive, Agnes Poni, a widow and mother of four, has teamed up with other women doing what has traditionally been men's job: crushing stones in a quarry. Poni spends long hours working on the dusty, snake- and scorpion-infested rocks of Jebel Kujur, west of Juba town, earning the equivalent of  $ 2.20 per day. She breaks rocks into gravel, which the women sell to builders. The work is hard since the women lack appropriate tools. To Poni, it does not matter how backbreaking the work is as long as it helps feed her children.
Stone-crushing also has been Zahari Alfred's source of livelihood for the past two-and-a-half years. Despite working the whole day under the scorching sun, she cannot make ends meet. "The money I get here cannot fend for my needs," the 32-year-old worker complains. "The three children's school fees are four times more than what I earn in a month."
Scores of women turn up at the quarry at the crack of dawn. They risk serious accidents and harassment by men. Suzana Lodu is one of them. She says she has been her family's only breadwinner since her father died in the civil war that began in December 2013. "I want to feed my family and pay the school fees for my siblings," she say. "But with the little earning I get, I doubt I can sustain them in the near future."
Lodu says that she could do farming "if the government improved security" in Magwi, her village in the south-eastern part of the country. Government forces and rebels are fighting each other in that region.
The qarrywomen only earn very little money. But the Juba City Council and the Central Equatoria Directorate of Taxation demand that they pay a fee of almost $ 2.80 per week. "Some men in plain clothes always show up every end of the week and demand to see a license or work permit," says Andrea Marko, another stone crusher. "If you can't show any, you have to pay them money for which they don't give receipts."
Inflation is another problem. The rate is currently 600 %. According to the World Food Programme and other UN agencies, 5.1 million people in South Sudan are experiencing severe food shortages, and 4.8 million are threatened by acute hunger.  
Parach Mach is a journalist and lives in Juba, South Sudan.
parachmach@gmail.com