Pakistan
Promote digital learning in Pakistan
Pakistan's struggle with underinvestment in education and digitisation has resulted in high illiteracy rates and systemic discrimination against girls and less privileged students. While some positive examples can be found in institutions catering for persons with disabilities, the overall picture remains bleak.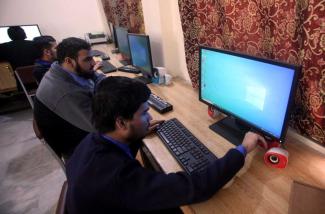 picture-alliance/ZUMAPRESS.com/PPI
Education is Pakistan's Achilles heel. More than 230 million people live in Pakistan, making it the fifth most populous country in the world. About one third of them is aged below 15, according to the UN Population Fund (UNFPA). It is imperative to ensure that this young and dynamic population has access to quality education if Pakistan wants to achieve its economic and socio-political potential.
However, the country's public investment in education is dismal, with Pakistan spending only 2.4 % of its total GDP on education in 2021. This figure has remained between 1.8 and 3 % in recent decades, paling in comparison to EU member states that allocate between 4.5 and 5.5 % of their GDP to education.
Thus Pakistan's poor literacy rates should come as no surprise. They differ significantly between the country's provinces, between 66.3 % in Punjab and 54.5 % in Baluchistan. Since the 18th Constitutional Amendment in 2010, education has become a provincial matter. Each region is responsible for its own policies.
Within the provinces, literacy rates can be expected to be significantly higher in urban centres than in rural areas. Additionally, men enjoy notably higher rates than women. This holds true for all ages across the country.
Digitisation is key
To improve education for all, access to technology and digitisation are essential. The Covid-19 pandemic brought this need into sharp focus, as lockdowns and job losses disrupted digital connectivity. Online teaching underscored the importance of internet access as an integral component of education (see box).
However, Pakistan has been slow to adopt technological progress, particularly in the education system, largely due to high costs. The country ranks in the bottom quarter of the Inclusive Internet Index, which evaluates nations' availability, affordability, relevance and readiness of internet services. The gender gap is also a significant challenge, with just 19 % of Pakistani women accessing mobile internet compared to 37 % of men in 2020.
The country's government has taken measures to address these issues. In 2017, Pakistan's Ministry of Information launched the Digital Pakistan Policy 2017, which aimed to promote IT usage across all sectors, including education. Its objectives included:
enhancing public-private partnerships,
developing accessible software,
incorporating IT accessibility in all competitive exams and
subsidising assistive technologies' costs.
The policy also aimed at providing pupils with better digital learning opportunities, including access to better tools. It could have proven effective for students, especially those enrolled in public schools during Covid-19 lockdowns. However, it was abandoned after a new government took over following the 2018 general elections.
In Punjab, the provincial government had set up the Punjab Information Technology Board (PITB) to provide IT services and infrastructure, with a plan to implement a massive internet connectivity spread. A 2017 education policy aimed to capitalise on this initiative. However, political interference in the PITB's structure and work following the regime change in 2018 led to earlier formulated policies and actions being set aside.
Additionally, Pakistan's digital infrastructure has been subject to government restrictions, including the banning of websites like Youtube and Wikipedia on the grounds of "offensive" or "blasphemous" content.
Private sector steps in
As the Pakistani government continued to neglect the education sector, private educational institutes have stepped up to the plate, investing in quality education and leveraging technological advancements and digitisation. These institutes are primarily concentrated in three major urban centres – Lahore, Karachi and Islamabad. They predominantly offer secondary education based on British and American systems. However, their high fee structures make them a rather exclusive option.
The private sector has assumed a critical role in Pakistan's education system. In 2017/2018, privately owned institutes accounted for 38 % of all educational institutes and 44 % of total enrolments. While some of these "elite" institutions provide access to modern technology, disparities persist across the board.
Among the first institutions and organisations in Pakistan to use digital technology for education purposes have been some that provide education and training to persons with disabilities, including the Ida Rieu Welfare Association, the Pakistan Association of the Deaf, the Aziz Jehan Begum Trust & Institute and the Special Talent Exchange Program. Additionally, some higher educational institutes increasingly leverage assistive technologies and digitisation to make education more accessible to persons with disabilities. For example, Lahore University of Management Sciences (LUMS) has established its Assistive Technology Lab, a facility designed to assist impaired students and staff.
For Pakistan to prosper as a country, better education for all is paramount. Investing in digitisation and education should be the main tool to achieve this goal, both in the private and public sectors. Notably, closing the gender gap in education and access to technology should be a top priority.
Marva Khan is an assistant professor of law at LUMS (Lahore University of Management Sciences) and co-founder of the Pakistani Feminist Judgments Project.
marva.khan@lums.edu.pk