Civil society
Educating on sexual health issues for 49 years
Ghana currently observes an increase in teenage pregnancies and sexually transmitted diseases. Against this backdrop, the work of the Planned Parenthood Association of Ghana (PPAG) is especially important.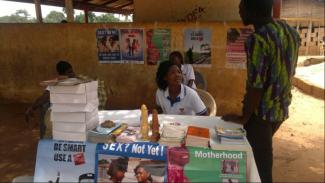 Luther Dennis Nii Antieyie Addy
PPAG is regarded as a leader concerning SRHR information and services in Ghana. The civil-society organisation promotes sexual and reproductive rights and provides education, information and services to ensure that people can make informed choices. PPAG gives information in matters concerning family planning, offers treatment for sexually transmitted infections and diseases and does HIV/AIDS tests and counselling. The organisation also offers comprehensive abortion care (CAC) and minor obstetrics and gynaecology services. Confidentiality is upheld, and many people with various health issues attend PPAG clinics.
Awareness rising among young people is a special focus of PPAG work. The idea is that they must know about the repercussions of early sexual activities. They are vulnerable, but also curious about their body and what they are able to do with it. Since the association's inception over 49 years ago, PPAG has informed young people about the dynamics of SRHR and how to avoid negative consequences of sexual activities. It is especially important that young girls learn about various family planning options, so they can make informed choices.
PPAG runs clubs in schools that support sex education. Moreover, there are PPAG youth centres called the "Young and Wise Center" across the country. They offer not only counselling and medical treatment, but also libraries and recreation spaces as well as activities such as sports and arts for children and adolescents. Through fun and play, the youths are able to learn more. The leaders of the PPAG are proud to have helped stem the HIV/AIDS pandemic as well as to have contributed to demystifying some of the misconceptions about family planning and HIV/AIDS.