Press freedom
Journalism as crime
If you are Egyptian, holding a camera and simply doing your job as a photojournalist you may land in prison. This is now a land where journalism is a crime.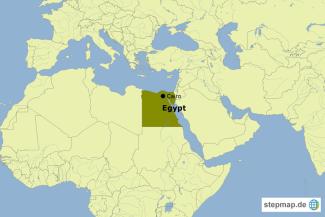 stepmap.de
The international community was shocked by the 3-years jail sentence for three Al Jazeera journalists. But not all Egyptian verdicts against media workers get the attention of the international press. For example, 28 year old photojournalist Mahmoud Abu Zeid, called Shawkan, has spent more than two years in a provisional detention centre.
In July 2013, the Rabaa Al-Adawiya Mosque and the adjacent square in Cairo became a sit-in protest area for supporters of President Mohamed Morsi, after he had been toppled by Abdel Fattah el-Sisi, who was minister of defence at the time. In August 2013, the police force violently dispersed the protesters, causing at least 638 deaths. This event is notoriously known as the Rabaa massacre.
Shawkan was there to cover the clashes for the Demotix and Corbis photo agencies. He was arrested along with two foreign journalists, who were released after a couple of hours. Shawkan, however, has now been held in jail for more than two years, without any formal charges being brought against him. According to Amnesty International, he has been referred to Cairo's Criminal Court to face trumped-up charges in a mass trial of 738 defendants. The first court session is due on 12 December, and Amnesty reports that Shakwan's lawyer has not yet been given access to the full casefile.
Shawkan's photos have been published in Time Magazine as well as in Die Zeit and Bild, two German newspapers. He states: "Photography is a way of life. It's not just how you hold a camera and snap a picture. It's the way you see life and everything around you."
In the past two years, Shawkan's friends and colleagues have demanded that he be released. Confronted with international calls to release the imprisoned journalists, Egyptian officials keep denying any media workers are in prison. Sameh Fahmy, Egypt's minister of foreign affairs, declared that "no journalist is arrested because of his opinion" when he met his US counterpart, John Kerry, in June.
In contrast, the non-governmental Egyptian Commission for Rights and Freedoms (ECRF) reported that the rights of 110 journalists were violated during work assignments in the first quarter of 2015. More than a dozen journalists are currently in detention.
Two of the Al Jazeera journalists have recently been pardoned, but Shawkan will stay in  detention.  He currently is in a partial hunger strike. His health condition is critical.

Basma El-Mahdy is a Cairo-based journalist who specialises in human rights issues. This article was initially posted under a different byline, but Basma has assured us that she does not need a psydonym for security reasons.
basmaelmahdy@gmail.com
Links:
https://www.facebook.com/FreedomforShawkan
https://www.amnesty.org/en/get-involved/take-action/journalism-is-not-a-crime-free-shawkan/