Cyber warfare
Strong clout in digital space
The rapid growth of digital technology has a bearing on global power relations. However, cyber capability is still often ignored. Governments can use cyber power to manipulate public opinion as well as to inflict severe humanitarian and financial damage. Espionage, digital propaganda and targeted disinformation matter very much. An essay published by Konrad Adenauer Foundation (KAS) assesses the matter.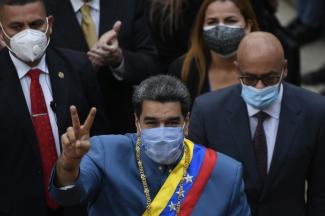 Matias Delacroix/picture-alliance/ASSOCIATED PRESS
Cyber space offers various opportunities for causing harm, including temporary shutdown of services via distributed denial of service (DDOS), swatting (hoax calls to police, fire services and emergency doctors) and assault on infrastructure through malware. In the future, cyber destruction can prove catastrophic and may seriously affect civilian entities as well as military units, write Jason Chumtong and Christina Stolte in their essay in the most recent edition of the KAS' International Reports (Auslandsinfomationen).
The two authors warn that some countries are building particularly strong cyber capacities. They warn that western governments must prepare for action accordingly, especially as not all of the countries concerned are strong powers in a conventional sense. The essay points out that some comparatively small states are operating cyber capabilities. The two essayists use the examples of Venezuela, Iran and Russia to elaborate their points:
Venezuela is a determined player in cyber space, write Chumtong and Stolte. Though the country is torn by political divisions and humanitarian crises (including food shortages, hyperinflation and poverty), it is surprisingly strong in terms of digital subversion. A leaked document from the Venezuelan interior ministry showed the government preparing for cyber warfare. The title was "Project to create a troll army of the Bolivarian revolution". According to the KAS authors, Venezuela's military-style cyber army is active in social networks, promoting the propaganda of Venezuela's regime, disrupting the democratic opposition and massively spreading fake news. It is operating thousands of social media accounts. During the protests against President Nicolas Maduro in 2019, 80 % of pro regime social-media traffic was generated by automated programmes called "bots" (short for robots). Venezuela was sanctioned by various countries, and in response, they were targeted by Venezuelan disinformation campaigns.
The two authors state that the Islamic Republic of Iran began its cyber capabilities at an early stage with an establishment of Supreme Council for Cyber Space in 2012. After becoming a victim of a cyber attack itself, Iran built capacities in the virtual word. In 2013, a group of hackers close to Iran caused considerable damage by hacking the Twitter account of the news agency Associated Press and spreading disinformation about the White House. As a result, the co-authors report, the Dow Jones Stock Market Index dropped by 150 points.
According to Chumtong and Stolte, Russia has been surprisingly active in cyber space since the outset. The essayists cite several examples, including cyber attacks on Estonian government bodies in 2007 or Germany's Bundestag (the federal parliament) in 2015. Energy infrastructure in Ukraine was targeted too, and so were US government institutions. Russian intelligence services pulled the strings, the KAS authors state, and a hackers group known as Fancy Bear carried out the measures. Moreover, Russian social-media campaigns interfered in the Britain's Brexit referendum in 2016, the US presidential elections in 2016 and the Catalonian independence referendum in 2017.
According to the authors, it is difficult and time consuming to track an attacker's location. Moreover, accusations often lead to denial and controversy. Chumtong and Stolte add that the general public is mostly unaware of cyber activities, though they have become relevant in shaping opinion at national and international levels. They recommend building capacities to counter cyber warfare.

Reference
Chumtong, J., and Stolte, C., 2021: Cyber capabilities as a new resource of power.
https://www.kas.de/en/web/auslandsinformationen/artikel/detail/-/content/cyber-capabilities-as-a-new-resource-of-power

Rishikesh Thapa is currently working as an intern for the editorial office of D+C/E+Z.
official.anthro58@gmail.com