Right-wing populism
Modi won – but did India?
Our India correspondent assesses the recent elections results.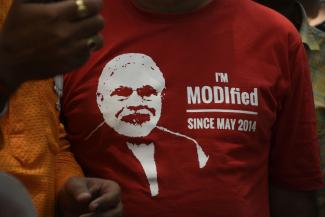 Javed Sultan/picture-alliance/AA
Soon after winning the general elections in India, Narendra Modi promised that he would be prime minister of all Indians; not only of those who voted for him. Minorities, he said, need not fear. The international media praised this new rhetoric as a welcome sign of moderation.
India's minorities, including almost 200 million Muslims along with Dalits, Adivasis, Christians and others, however, hope that their worst fears will not come true. They have been familiar with the Hindu extremist speak for decades, and statements of some elected leaders induce fear. The unstated message is that minorities have nothing to fear as long as they accept Hindu dominance, but this rule does not apply consistently, as recent hate crimes and their handling confirm. Indians remember the Gujarat riots in 2002, when Modi, then the chief minister of the western Indian state, failed to stop the massacre of Muslims.
According to the constitution, India is a secular nation and accepts all religions – a position increasingly being questioned. Worse, those who disagree are labelled "enemy of the people". Amongst others, five human-rights activists and academics arrested in August last year still rot in jail for having stood up for rights of the oppressed. Independent journalists, civic leaders and intellectuals are harassed, attacked and even killed. Journalist Gauri Lankesh was probably the most prominent victim.
Video-taped murders of Muslims go viral, and vigilante groups carry out attacks over beef eating and inter-caste marriages. Alleged terrorists are even rewarded with political positions. Pragya Singh Thakur, accused of conspiracy in the 2006 Malegaon blast case, is a member of parliament. Yogi Adityanath, chief minister of Uttar Pradesh, India's most populous state, has seen no reason to apologise for his alleged hate speeches.
On the one hand the killer of Mahatma Gandhi is resurrected as a hero, and on the other fantasies based loosely on ancient mythology now trump scientific insights as bigotry, xenophobia and misogyny run wild.
The Narendra Modi victory is in keeping with the international trend of victorious right-wing populists. They thrive on divisive action while insisting on organised unity. His policies sound good in theory but have failed the grassroots test thus far. The crying shame of the first five years of the Modi government is the collapse of the economy. Growth rates are down; inflation is inching up, and the promised jobs miracle never happened. Unemployment and underemployment are worse, and little was done to trigger rural development.
Worse, Modi's ill executed tax reform was overly bureaucratic, crippling small and mid-sized enterprises. His "demonetisation" (banning certain denominations of currency), meant to break the back of terrorism and corruption by eliminating black money from the system, ended in a fiasco: new banknotes promptly replaced the old ones, while masses of informal and small scale businesses and farmers took a beating.
Meanwhile, the controversial Rafale jet deal suggests that crony capitalism is in full bloom in the country. Will other things change under Modi 2.0? Hopefully, because surely India's masses of unemployed, who were betrayed but still voted him to power, will not be patient over the next five years. The people can only hope that governance from 2019 will include:
putting a check on provocative and fake news on social media,
stopping the emasculation of institutions of democratic governance,
giving minorities a sense of security, and
prioritising issues of economy, ecology and growth; not giving precedence to obscurantism.
Modi, with his unmatched eloquence, manipulated the political discourse away from economic misery and focused attention on supposed enemies. He managed to hold large sections of the country in thrall as jingoism carried the day. A weak and fractured opposition running its campaign on inclusivity and justice for all got swept away, except in some southern states and the northern state of Punjab. The ruling NDA secured 45 % of the votes polled. Modi won; but did India?

Aditi Roy Ghatak is a freelance journalist based in Kolkata.
aroyghatak1956@gmail.com