Relevant reading
Participation and equal opportunities
The UN Convention on the Rights of Persons with Disabilities is one of the greatest successes of the movement for equal rights of the people. This article discusses recent publications on the Convention and on disability rights in general. By Constanze Schmoger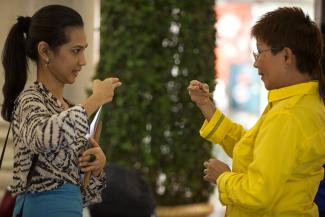 Donal Husni/GIZ
The UN Convention on the Rights of Persons with Disabilities (CRPD) is an international treaty that expands the traditional understanding of human rights. In its language, the voices of people with disabilities and their organisations are more evident than in any previous UN Convention. All too often, people with disabilities are excluded from society. The CRPD, however, promotes a new understanding of disability: it marks a shift in perspective that no longer sees millions of people with disabilities and their families as affected people and recipients of charity to one that finally recognises them as citizens with equal rights and obligations. The treaty, which has been signed by 147 countries in the meantime, went into effect eight years ago.


Inclusion means participation

The relevance of participation in the sense of a "new kind of diplomacy" is the topic of the book "Human rights and disability advocacy" by Sabatello and Schulze (2013). It offers readers profound insights into the collaborative process that led to the CRPD. People with disabilities and their advocacy groups were involved in the negotiations to an exemplary and unprecedented degree. The event has, no doubt, contributed to the paradigm shift that is taking place in the human-rights discourse.

The book considers the points of view of civil-society organisations and state agencies and assesses how they all contributed to the evolution of the human-rights concept. The authors appeal to all development actors to practise and promote this "new kind of diplomacy". That matters since there can be no doubt that the international community of people with disabilities still faces huge challenges: it must find ways to change peoples´ minds on how people with disabilities are treated and perceived.

In 2008, the World Health Organisation and the World Bank published the first World Report on Disability. The document was ground-breaking both in terms of content and methodology. It was launched after the CRPD entered into force and remains the largest compilation and interpretation of available data, facts and sources on disability internationally. Civil-society organisations and state agencies from over 70 countries contributed to drafting the report.

The document emphasises the enormous need to improve methods of data collection and to consider different types of disability differently. In order to identify the specific needs that development efforts ought to address, a realistic understanding of the situation of people with disabilities from all walks of life is indispensable. Women and girls matter in particular in this context because they tend to be neglected.


Inclusion requires sound data

Since the mid-1990s, the aid organisation UNICEF has been providing an up-to-date overview of issues facing children in its series "The state of the world's children". In 2013, the publication focused on children with disabilities. The document contains many figures, data and statistics and underlines the deplorable situation of children with disabilities all over the world.

It begins with an analysis of the causes of exclusion and identifies existing barriers and solutions regarding many different situations. The publication ends with a clear agenda for inclusion: it recommends dismantling barriers, highlights alternatives to institutional care, provides suggestions for coordinating services and supporting families, and it makes a case for involving the children themselves in decision making.

Including people with disabilities in vocational training is getting a lot of attention internationally. The reasons are the passing of various national laws that promote inclusion, on the one hand, and a general desire to help people with disabilities live as independently as possible, on the other. For many years, the International Labour Organisation has been publishing a series of guides and tools to support the education, training and employment of people with disabilities in the general labour market.

The most recent ILO guide, "Inclusion of people with disabilities in vocational training", is based on international regulations as well as relevant ILO standards, recommendations and conventions dating back to 1955. The guide specifically addresses vocational school administrators, instructors and employers. Its core is practical advice and guidelines for integrating people with disabilities in vocational training and helping them find regular employment.

One billion people with disabilities worldwide means that one in seven is affected. "One in seven" is therefore the fitting title the Disability Rights Fund (DRF) gave its first report. The DRF is an international body that provides direct support and advice to self-help organisations at the local level. The report gives a concise overview of the movement of people with disabilities and illustrates how the world's understanding of human rights is constantly evolving. It also points out what tangible measures can achieve.

The document convincingly assesses the destructive mutual reinforcement of poverty, disability and political voicelessness. Furthermore, it shows that advice and financial support to self-help organisations does a great deal to improve the lives of people with disabilities. "One in seven" is an appeal to all actors, particularly bi- and multilateral donors, to devote more attention to people with disabilities and their organisations. It encourages donors to involve such groups in decision making and actively support their development.
Women and girls with disabilities

Women and girls with disabilities are excluded twice: they face discrimination both on the basis of their gender and their disability. Mobility International USA (MIUSA) has been addressing this issue since its inception in the 1980s. As a non-governmental organisation led by persons with disabilities, MIUSA helps them participate in international exchange through a variety of programmes.

An interesting example is the Women's Institute on Leadership and Disability (WILD), an annual meeting that allows legal activists with disabilities from developing countries to get together in the US. They basically hone leadership and management skills and expand their networks in order to promote inclusive development at home. The impressive photo collection "Brilliant and resilient", which was published by MIUSA in 2013, documents the extraordinary success stories of 50 woman activists with disabilities from developing countries.

The protagonists grant readers a very personal and unique look at the circumstances of their lives. They discuss their experiences with discrimination and injustice and describe how they ultimately managed to enforce their right to education, employment, political participation and health care.

Constanze Schmoger works for GIZ in the sector project Inclusion of Persons with Disabilities. constanze.schmoger@giz.de

Literatur:
Disability Rights Fund, 2013: One in Seven – How One Billion People are redefining the Global Movement for Human Rights. Boston: DRF.
International Labour Organisation (ILO), 2013: Inclusion of People with Disabilities in Vocational Training: A Practical Guide. Geneva: ILO.
Mobility International USA (MIUSA), 2013: Brilliant and Resilient: Celebrating the Power of Disabled Women Activists. Eugene: MIUSA.
Sabatello, M., and Schulze, M., 2013: Human Rights and Disability Advocacy: Philadelphia: Penn/University of Pennsylvania Press.
UNICEF, 2013: The state of the world's children: Children with disabilities. New York: UNICEF.
WHO and World Bank, 2011: World Report on Disability. Geneva: WHO.