Renewable energy
The social dimension of "desert power"
In the Middle East and North Africa, conditions are ideal for solar thermal power stations producing climate-friendly energy. But it is doubtful that such large-scale facilities are an unqualified benefit for the local community. A pilot research project has examined the impacts of large solar thermal power plants on people's livelihoods.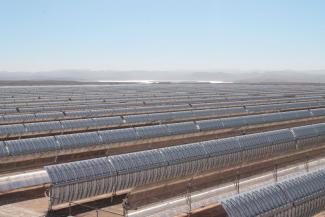 Schinke
Many countries in the Middle East and North Africa (MENA) currently stand at a historic crossroads: a fundamental paradigm shift is needed to stabilise the region politically, protect it from the impacts of climate change and create opportunities for socioeconomic development at the same time. Old political power structures and the dependence on fossil fuels need to be overcome. Innovative solutions must be developed to meet the demands of the Arab spring. Environmentally sustainable power generation will play a key role. The region's vast expanse of desert offers ample space and sunlight, so large-scale concentrated solar power stations look promising.
Large-scale production of "desert power" is technically feasible. It could significantly help to mitigate climate change and improve energy security in the MENA region in only a few years. What is more, combining large concentrated solar power stations with desalination plants could help stave off the region's impending water and food crisis. This technological approach would also drive the development of new industries, the transfer of skills and the creation of new jobs at the local level.

Protests against power plants
The downside must not be ignored however. In developing countries in particular, major (energy) infrastructure projects have often triggered protests and even violent conflict because, in the eyes of local people, negative impacts outweighed promised benefits. In southern Morocco, for example, local civil society blocked plans for a 72 megawatt oil-fired power station. The project developers had not clearly communicated the social and environmental impacts. The result was massive resistance.
Plans for power stations have suffered a similar fate in other places, for example at Nuwaiba in Egypt, where the construction of a gas-fired power station threatened to harm local livelihoods and tourism. Local Bedouins protested, and the project was shelved.
Large solar thermal facilities have also sparked conflict between operators and local residents. In the case of the Spanish solar power station Andasol, for example, farmers whose land had been expropriated were extremely unhappy with the small compensations they received. In the end, owing to public pressure and the operator's readiness to compromise, a mutually acceptable solution was found, and the farmers were given greater compensations in the form of money or new land.

The Social CSP research project
At present, the debate on large-scale solar power facilities in the MENA region focuses predominantly on technical and economic feasibility of concentrated solar power (CSP) technology. This is inadequate. Other issues matter too, and renewable energies per se – i.e. just because they provide climate-friendly electricity – are not necessarily sustainable.
A first study on how CSP projects impact on local livelihoods and whether they contribute to or block sustainable development has been prepared by Germanwatch, the Wuppertal Institute for Climate, Environment and Energy and the Bonn International Center for Conversion (BICC). The pilot research project was called "Social CSP" and it was supported by local partners. The focus was the Noor I power station which is being built at Ouarzazate in Morocco. "Noor" means "light" in Arabic.
Based largely on participative fieldwork, the research project got support from Germany's Federal Ministry for Economic Cooperation and Development (BMZ) from 2013 to 2015. The project took account of local community interests in the Noor I project and showed that, in the future, large CSP projects need to be geared towards social sustainability in the MENA region.

The example of Ouarzazate
What is taking shape at the gateway to the Moroccan Sahara is an impressive step towards a sustainable energy future. Surrounded by traditional Berber villages, the world's largest solar thermal power complex is under construction on a stony 3,000 hectare desert site near Ouarzazate. King Mohammed VI launched the 500 megawatt (MW) project in 2009.
Like a giant hall of mirrors, the curved parabolic collectors of the first phase (Noor I with 160 MW) spread over a barren plateau in the Atlas Mountains. The facility is due to come on-stream this year. Three more compounds of the solar power complex will follow and are scheduled for completion by 2019. The giant scheme will supply more than a million Moroccans with clean electricity and reduce carbon emissions by millions of tonnes.
Four more solar complexes modelled on Noor will be constructed in the coming years in other sunny regions of Morocco. Accounting for 42% of installed capacity, they will help the country meet around 30% of its electricity needs from regenerative sources by 2020. For the Kingdom of Morocco, which has no significant oil, gas or coal reserves and currently imports 95% of its energy resources, this is a vital strategy for modern, climate-friendly development.

The social dimension of Noor I
The Moroccan Agency for Solar Energy (MASEN) took great pains to secure community acceptance for the Noor project. For one thing, the power station has Morocco's popular king as its patron; for another, MASEN took special account of local circumstances. The project developers sought to identify and avoid possible negative impacts in advance. They did a good job, and the Noor power facility is viewed with pride by the local community in and around Ouarzazate. It is generally accepted.
Examples of the positive and negative impacts for the local community identified by the Social CSP project are summed up below.

Positive impacts:
Employment: primary concerns of the local community were that a large share of jobs should benefit the local workforce – especially the young – and that local supply chains and local industries should be involved. The Noor project developers met that concern by awarding around 700 of the 1,800 jobs created during the construction phase to local workers. When labour was sourced, nearby communities and local construction firms were given preferential treatment. Another 850 jobs were awarded to workers from other parts of Morocco, and the remaining 250 went to international engineers. Far less labour will be required to operate the power facility. In regard to maintenance and related issues, priority will be given to Moroccan firms. The experience and expertise acquired will be used for other solar projects in Morocco.
Capacity building: people in the region normally are not well educated, and there hardly are any local industrial capacities. A special focus was thus on capacity building programmes to train people for skilled-labour jobs and aligning the training programmes to a bachelor programme at the local university.
Compensation for loss of land use: despite the size of the solar power plant, there was no need for resettlement. However, land use will be restricted in the future. For example, firewood and medicinal herbs can no longer be collected, and livestock farmers will no longer have access for grazing purposes. The communities affected received monetary compensation, however, so local welfare, education and healthcare facilities can be improved.

Negative impacts:
Water consumption: the biggest local fear was that vital water resources would be lost because of the water needed to cool the power plant. In response to this valid concern, the decision was taken to use dry cooling technology for project phases Noor II and III. Moreover, the oasis communities affected were promised support for water resource management.
Participation, communication and expectation management: community involvement in project planning was meant to ensure that local needs and concerns would be addressed early on. This approach does not have deep traditional roots in Moroccan politics. Despite the efforts made, however, concerned citizens in many localities felt they were not treated as equals and regarded the project management as technocratic and "top-down". Local communities also felt they were insufficiently informed about the different stages of the construction project and complained that only those well-disposed towards the project were involved in direct dialogue, while whole sections of the community remained excluded. This resulted in insufficient knowledge about the project, which led to unrealistic expectations and widespread disappointment, especially with regard to the number of new jobs created and the scale of social development projects.

Conclusion
The Arab spring fundamentally changed the environment for large-scale renewable energy projects in North Africa. If the right lessons are learned from the political demands, policies like the Morocco Solar Plan could boost the region's development. The Social CSP research project shows that the success of the Morocco Solar Plan hinges crucially on taking into account the needs and priorities of local communities. Other vital requirements are early, dialogue-based, inclusive civic participation, transparency in planning and implementation, a detailed knowledge of social settings and a high degree of cultural sensitivity.
For the next construction phases of the Noor complex and future locations of the Morocco Solar Plan, greater attention should be paid to informal dialogue between project managers and community members. That could lead not only to a better understanding of the project, but also to early identification and resolution of possible problems.

Boris Schinke is a senior adviser on energy and development with Germanwatch.
schinke@germanwatch.org

Conrad Schetter is the research director of BICC (Bonn International Center for Conversion).
schetter@bicc.de
Link:
Report: Social CSP.
https://germanwatch.org/en/download/11797.pdf