Environmental damages
Rainstorm and floods
Natural disasters seem to be hitting harder and harder. Mid-September this year, a heavy rainstorm in Sierra Leone and the consequent flooding of its capital Freetown caused the death of many innocent lives and the loss of valuable property. The damage is estimated to amount to about $ 2 million. One thing is certain: this was a warning signal, things are likely to get even worse.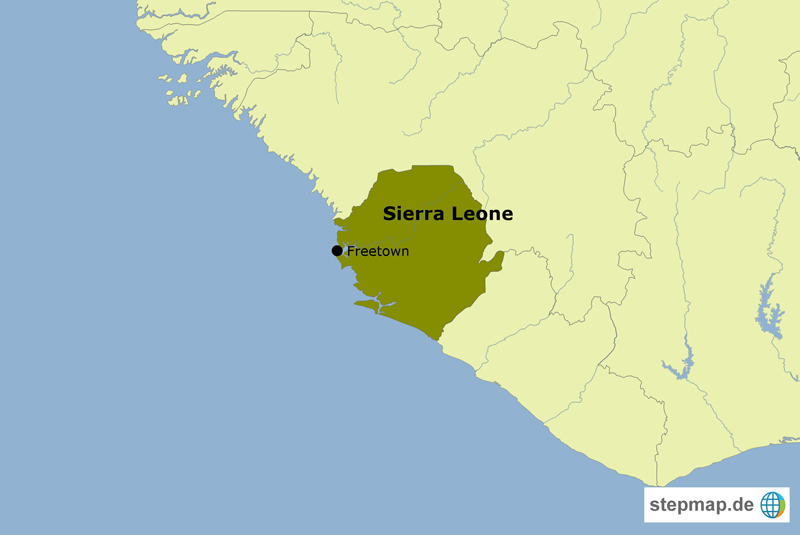 stepmap.de
One heavy five-hour rainstorm had a disastrous effect. At least 2000 homes were destroyed beyond repair. Photos of houses covered by water, collapsed homes and half-naked people on the streets were spread on social media. TV stations and tabloid newspapers explicitly showed the disaster as well.
Over 20,000 people were displaced on the day of the floods, seeking shelter at the National Stadium. FOCUS1000, a local non-government organisation, reported that almost 7,000 of the stadium population were children under 18. About 70 % of the adults were women, including pregnant women and mothers with small babies. They needed immediate humanitarian support including blankets, shelter, clothing, food, water, toilet facilities and psycho-social care.
The worst affected areas were low-lying slum settlements. People living under bridges and near waterways suffered too. Reports state that, three years ago, the government had warned slum dwellers to relocate to a designated resettlement camp that was supposed to be safe. But after this warning was given, no effort was made to help people to move away from disaster-prone areas. The Office of National Security (ONS) seems neither able to manage precaution nor disasters in a professional way.
According to the Sierra Leone newspaper Standard Times Press, the capital city Freetown is "prone to environmental disasters such as flooding and landslides. During the rainy season, tons of waste are washed down from the hilltops and deposited right into the central business district of the city, thereby causing blockades in culverts and drainages."
Mohamed Bah, the agency's deputy director of the Environment Protection Agency of Sierra Leone, maintains that there are various reasons for the terrible flooding in Freetown, namely "deforestation due to housing construction on hill tops and dumping of all sorts of wastes in drainages." Another issue is the mining activity on the hills: sand and stones reduce the surface flow of the gutters. Cutting of the mangroves in the coastal areas is a further element which causes environmental hazards. The Environment Protection Agency has long called on the government to adopt new measures to fight deforestation, but with not much effect.

Alie Yunus Kallay is a journalist, radio presenter and publisher. He lives in Freetown, Sierra Leone.
aliup88@gmail.com
Link:
Focus1000:
https://www.facebook.com/FOCUS1000SL