Forced displacement
"My home, my life"
Kakuma refugee camp in Kenya's Turkana desert is currently housing more than 180,000 people. Most of its inhabitants come from Somalia and South Sudan, and some of them have lived here for decades. Mary Othow is one of them.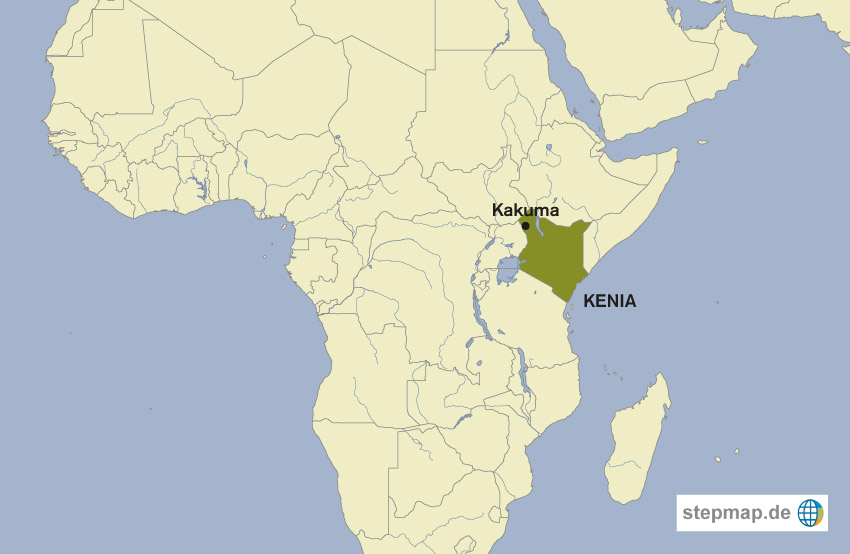 stepmap.de
"I remember 30 years ago, back in my village everything was well. All members of my family were still alive," Mary Othow recalls. The South Sudanese woman is originally from Akobo County in Jonglei State in the country's south-east. She is one of the tens of thousands of refugees who have spent most of their lives in Kakuma.
Mary Othow arrived in Kakuma 25 years ago. She says:
We are refugees, and we are so forever. We cannot go back home for many reasons: some of us have no place to go due to insecurity back home, others have no remaining relatives because they all died during the conflict. So we have neither hope nor reason for going back home. The refugee camp is our home – forever.

Mary Othow first became a refugee during Sudan's civil war, which started in 1983 and only ended with the peace agreement of 2005 that insured a popular vote on the independence of South Sudan. Mary Othow gives a vivid account of the day her home was destroyed:
When I was about 15 years old, our home village was brutally attacked by Arab militias. It was early in the morning. The militias fired heavy guns which sounded like thunder, guns which shook the ground and made trees fall. Dead bodies were all around me. For the first time in my life, I felt great fear.
My mother was killed on that very day. The militiamen came onto our compound, many of them. They shouted 'come out! Come out! Or we will burn down your house!' My mother got scared. She told us children that she would go out, and that we should remain inside – hidden and in complete silence. The militias had already burned the other houses of the compound, only our house remained. My mother went out to them courageously. She sacrificed her life for us.
The militias asked her whether there were people hiding in the building, but my mother insisted that there was nobody. They didn't believe her, so one of them came inside to search, but we were all hiding and kept silent. The man left and told his leader that there was no one.
After a terrible interrogation, they shot my mother. Even when she was dead, they humiliated her and brutally cut her with knives and machetes. They threw her body on my aunt's and my cousin's bodies who were killed earlier that day.
Several hours later, the guns' sound stopped, and there was only silence. We came out of our hiding places. Together with the other few remaining children of the village we decided to leave and find a place where we could be safe.
We passed many corpses along the way. If there was any living thing happy that day, then it was the vultures. I was very sad, and I hated the thought of living on earth for the rest of my life. We walked for many weeks before crossing the border to Ethiopia.

In 1983, Mary Othow arrived in the Pinyudo refugee camp in Ethiopia. She remembers life being very hard:
My little brothers and sisters and I were orphans now, and I was the only guardian left to take care of them. I did some small business in order to feed them. Soon I had some children of my own. But my husband Okello Opiew, a veteran soldier of the early years of Sudan People Liberation Army/Sudan People Liberation Movement, was killed in my homeland Akobo. On several occasions, I tried to commit suicide. But every time I hung a rope around my neck, some spirit talked to me, saying 'if you kill yourself, who will take care of your siblings and children?' So I had to live on in hardship, struggle and make sure my kids could survive every day. Being a single mother is very hard. I couldn't provide for all the needs of the children.

A few years later, a relative told her that life might be better elsewhere. She didn't know where to go, but decided to leave Ethiopia in search of a better place:
We travelled for months and months on the way to an unknown destination. In the early months of 1991, we arrived at Lokichokio, which is in northern Kenya on the border with South Sudan. People who called themselves UN, with the same symbols and logos on their clothes that I had seen in Pinyudo, came to us, offered us a place to stay and gave us food and water.
Later, we were relocated to a temporary place – I don't know when, after a few months or so; since I am not an educated woman, I don't know exactly the months and years. Anyway, one morning, I saw several convoys with the UNHCR symbol lining up in a long queue. Our names were called out aloud; we entered the cars one by one. We were brought to this place, Kakuma refugee camp, which has been my home now for over two decades.

In Kakuma, life continued to be hard, Mary Othow soon found out. She had to rely on UN food for her children and herself. By then, she and her siblings were separated.
Most of my brothers and sisters were already killed those earlier days when I was in my homeland. Few managed to survive and come with me to Ethiopia, but their whereabouts today, I do not know. I ask myself whether they are still alive or dead. I always ask the newcomers to the camp if they know some of my relatives, but I never got a positive answer.
In Kakuma, the UNHCR distributed food and non-food items and covered other basic needs. They were so kind to open clinics, dispensaries and hospitals as well as schools for our children.
My two boys got enrolled in primary school, studying hard. At times, my elder son would miss school due to lack of food or because our house was damaged, since he was the only one who could help to rebuild the house and raise some money for food.
I am proud of my children. My three children who are in different places are: Ojullu Okello, currently in the USA, Peter Okello in Dadaab refugee camp and my young daughter, Anyango Okello in Kakuma here with me. They respect me as their mother and they worked hard at school – they never failed me. They passed their exams with good results. Now the boys have moved away from the camp. Although at present they don't have good jobs, they are educated. I know they will help themselves in future; at least they will not be like me, their uneducated mother. My kids call Kakuma their home because this is where they spent almost all of their childhood years.

The recent peace deal between the warring parties in South Sudan does not raise Mary's hopes for return.
There are those who are fighting for money, position and power. Why are they doing that? Our country is free now; I cannot understand why they fight among themselves. Anyway, I cannot go back to South Sudan anymore. Kakuma is my home and my life. This is a good place because my children got a better education here than would have been possible in our village back in South Sudan; here they got medicine when they were sick. My elder son even got married here, so how do you call this place? There is only one word: home.

Peter Owar Okello is Mary Othow's son. He is a journalist who currently lives in Dadaab, Kenya after having returned from South Sudan in 2013.
okello17art@gmail.com