German Policymaking
Towards an equitable world
Germany's new federal government took office in early December. In the Cabinet, Svenja Schulze is now in charge of economic cooperation and development. She told D+C/E+Z about her priorities. This interview was finalised shortly before Russia invaded Ukraine.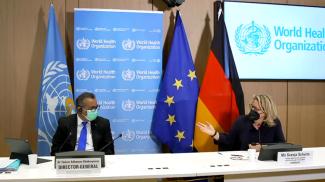 Screenshot: Video BMZ/Youtube – https://youtu.be/J2yqsfLqOX4
The international community must cope with a multidimensional crisis. We must simultaneously stem global warming and the loss of species, stimulate economies following the slump caused by Covid-19, tackle pandemic-induced debt problems and strengthen health care. What kind of support do developing countries and emerging markets need in this setting?
Well, during the acute waves of the pandemic, immediate humanitarian relief was the most urgent need. Now a phase is beginning in which we can focus more on sustainable investments which will make developing countries and emerging markets more resilient to future shocks and will also contribute to economic reconstruction. I am thinking specifically about measures like developing local vaccine production in Africa or supporting a just energy transition. Moreover, the pandemic has made it shockingly clear that poorer nations have virtually no functioning social-protection systems. This is another challenge we must address by joining forces.
To what extent is this a matter of official development assistance (ODA), for which prosperous nations have promised to allocate 0.7 % of gross national product? And to what extent are other kinds of international financial flows needed, such as debt relief, special drawing rights (SDRs), climate finance or even compensation for crimes committed in the colonial era?
The challenges are huge, so we must make use of all financing options. I am also thinking, for example, of private investment. Many of our efforts in an area like supporting administrative reforms are geared towards making foreign direct investment in our partner countries more attractive. Such investments also create urgently needed jobs, and they make it possible for governments to cover their spending through tax revenues.
Debt relief will certainly be back on the agenda in the near future. Many governments have increased their debt in order to fund the costs of the pandemic. Now they are faced with rising interest rates, which may well lead to new financial crises in developing countries and emerging markets. Creditor nations must respond with timely countermeasures. In regard to special drawing rights, our situation in Germany is special. I would very much like for German SDRs to be used to support vulnerable countries. However, our central bank, the Bundesbank, has so far been fundamentally opposed to that, and I must respect its independence in this matter too. Other governments do not face such limitations, and I applaud them for taking the lead in using SDRs in such good ways.
How can one ensure that poor and marginalised groups – including women, ethnic and religious minorities or slum dwellers, for example – are not left behind?
We have to assess situations diligently and act with determination. People experience disadvantages for various reasons. Gender, sexual orientation, religious faith, ethnic identity, age and place of residence may all play a part. Sometimes government agencies discriminate too, for example when laws or institutions restrict the inclusion of specific groups or simply do not do enough to reduce inequalities.
The UN's 2030 Agenda with its Sustainable Development Goals (SDGs) is a guideline for German policymaking on international development. The commitment to leave no one behind is essential. It requires us to focus on the most disadvantaged people and not neglect any of them. That is both our aspiration and our responsibility, not only towards the people in our partner countries but also in multilateral contexts. Equal rights, equal opportunities and equal representation for everyone are crucially important. That is particularly the case when it comes to access to resources, education, health care, social protection, healthy food and participation in society.
What is the role of nation states, regional organisations and multilateral institutions?
We obviously need more international cooperation. The Covid pandemic has made it clear just how important agencies like the World Health Organization (WHO) and Gavi, the Vaccine Alliance, are. That goes for general coordination, but also for very tangible matters such as the distribution of vaccines. Institutions like the World Bank or UNICEF, the UN Children's Fund, have made meaningful contributions towards softening the economic and social impacts of the pandemic in developing countries. We must build on this base and strengthen those agencies further. Regional organisations matter too, of course, and the recent EU-AU summit is a good example. We therefore aim to further support regional integration among our partner countries. For example, the African Continental Free Trade Area is a most promising project. At the same time, we must not neglect nation states because, for most people, they are still the most important frame of reference.
High-income countries have adopted massive stimulus programmes, but only a small share of the money has been invested in making economies environmentally sustainable. At the same time, high-income countries have been running vaccination campaigns on a scale that sub-Saharan countries can only dream of. In what sense can – and should – the G7 do things differently in the future?
The slogan for Germany's G7 Presidency this year is "Progress towards an equitable world". We intend to promote issues such as global vaccine justice or the eco-friendly transformation of economies. Last year, for example, we joined forces with other G7 nations, the EU and the World Bank and forged a partnership with South Africa designed to support the country's socially fair phase-out of coal-based power generation. We now want to roll out this initiative in other developing countries and emerging markets.
Both the global common good and the achievement of the SDGs depend on global cooperation. How is cooperation possible with big countries under authoritarian rule, such as China or Russia? Other countries, too, are increasingly emphasising national interests.
Yes, we must cooperate with authoritarian governments, such as the one in China, if we are to meet global challenges and achieve the SDGs. Climate change does not stop at national borders, nor do pandemics.
In cooperation with China, we have therefore established a centre for sustainable development in Beijing for the purpose, for example, of debating standards and practices of development cooperation with China's bilateral development agency. It is also a way to support industry associations in China in meeting sustainability standards in their global outreach.
On the other hand, we must defend the existing global development agenda against increasing reinterpretation and appropriation using narratives that are incompatible with our globally agreed values. We must speak up everywhere for our values in close unity with our partners in the EU and beyond it.
What are your top priorities?
I want to fight hunger, poverty and inequality. Moreover, I want to promote socially equitable climate action. Finally, I want to implement feminist development policies. This means that, in all our efforts, we must always pay attention to promoting women or at least involving them as equal partners. This goes way beyond women's welfare. Strong women make society strong! Countless studies have shown that there is less hunger, less poverty and more stability when women are able to assume equal responsibility in leadership roles.

Svenja Schulze is Germany's federal minister for economic cooperation and development.
www.bmz.de/en
Hans Dembowski is the editor in chief of D+C/E+Z.
euz.edtor@dandc.eu