Minor International
The man who brought pizza to Thailand
Thai-based Minor International (MINT) is one of the largest food and hospitality companies in the Asia-Pacific region with sales worth more than € 100 million in 2014. The company cooperates with internationally known brands, but also develops its own brands.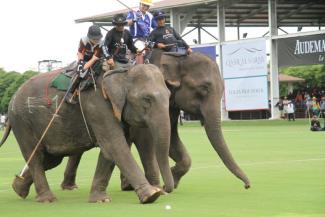 kd
In 1978, 29-year old William Heinecke founded Minor to operate the Royal Garden Resorts in Pattaya. The name Minor was a nod to his young age.
The company has three core businesses today: hotels and hospitality, food and restaurants and retail. It owns and manages over 120 luxury hotels in Thailand and 22 in other countries across Asia, Africa and Australia. Some hotels are run under brand names such as Marriot, Four Seasons and St. Regis. MINT's own hotel brand is Anantara.
MINT's food and restaurants unit operates 1,700 restaurants in 18 countries. Brands include the Pizza Company, Thai Express, the Coffee Club and Riverside & Courtyard. In retail, MINT is the Thai distributor for global brands such as Esprit, Gap and Tumi. Heinecke's commitment to high quality of service and products has paid off in all lines of business.
Through a series of partnerships and strategic mergers and acquisitions, MINT became a global player in the hotel industry. In Dubai, it partnered with Nakheel to start Avani. In 2011, it acquired the Oaks brand in Australia. MINT continues to expand in East Africa through its ownership of the Elewana Collection.

Getting involved
Heinecke, the group's American-born chairman and chief executive, is now 66 years old. He became a naturalised citizen of Thailand in 1991. He is well-known and liked in Thai business and political circles. He has lived in Thailand since he was a teenager. His father was based in the country for the US foreign service, and his mother was an Asia correspondent for Time magazine.
Heinecke intervenes in public discourse in Thailand. In 2014, after the military coup, he expressed frustration about how western governments and media portrayed Thailand. In an open letter he stated, among other things, that negative media coverage would hurt tourism, an industry not only MINT, but many Thai people depend on. Heinecke argued that negative reporting and misleading "fear-mongering" might help to sell newspapers and attract TV audiences. He warned: "This in turn influences government travel warnings worldwide and has a disastrous effect on tourism." Heinecke pointed out: "Thailand is not only facing political challenges, but also the compounding effects of exaggerated media reports which paint a distorted and unrealistic picture of the situation in the Kingdom."
Not all reactions to Heinecke's letter were favourable. He was accused of having adopted the Bangkok establishment's conventional way of thinking. Some critics said that he was ill-advised to make a naïve attempt of justifying the coup.
It hasn't always been smooth sailing for MINT. In 1999, the Minor Hotel Group (MHG) faced off with the investment bank Goldman Sachs. Goldman wanted to buy real estate that MINT was using in Bangkok's prime Radchadamri district. Thanks to his local knowledge and connections, Heinecke managed to convince the property owners that the land was too valuable to end up in foreign hands. Goldman only managed to buy 41 % of the area and eventually sold the property to MHG. This is where Minor's flagship hotel, the Anantara Siam, is located. It was formerly the Four Seasons.
MINT has taken some surprising steps. In 1980, Minor Food Group was founded to operate and franchise Pizza Hut. Heinecke acted against the advice of consultants who told him that Thais had no preference for cheesy foods and bread. His instincts proved to be right and the franchise grew to over 200 locations.
Nonetheless, there were serious challenges. 15 years ago, MINT famously came head-to-head with Tricon Global, the US-based food giant that owns the Pizza Hut brand and is now called Yum! Brands. In 2001 Tricon revisited its contract with MINT and tried to add a non-compete clause and increase royalties. MINT felt this was unfair. After a year of negotiations, the two companies ended their partnership and settled out-of-court.
Having tapped into Thailand's taste for pizza, MINT renovated all of its pizza restaurants and undertook a massive rebranding effort, introducing the name Pizza Company. Legal fees and rebranding cost MINT about € 4.2 million, but the investment soon paid off. Within six months, the Pizza Company became the country's largest pizza chain with a market share of 70 %. Today, the Pizza Company has franchises in Jordan, Saudi Arabia, China, Myanmar and seven other countries.
MINT continues to introduce American quick-serve restaurants to Thailand. It has brought in Burger King, Sizzler and Swensen's Ice Cream with lasting success.

Social commitments
Heinecke has started a comprehensive corporate social responsibility (CSR) programme that funds animal protection, promotes eco-friendly practices and supports local communities. MINT supports wildlife protection initiatives, including marine turtle conservation in Phuket, coral rehabilitation in the Maldives and Serengeti lion protection in Kenya.
In the northern Thai province of Chiang Rai, MINT has set up the Golden Triangle Asian Elephant Foundation to improve the welfare of elephants and the livelihoods of mahouts (elephant trainers) in Southeast Asia. The elephant is Thailand's national animal. Nonetheless, the animals often suffer. They are used in illegal logging, elephant shows and even for begging in city streets. Elephant abuse has thus become prevalent throughout Thailand. The Foundation takes care of elephants through an effort of rehabilitation, care and nutrition. It supports mahouts and their families with accommodation, health care and insurance. It also runs training courses for veterinarians, scientists and park rangers.
In its dairy and cheese production facilities, MINT employs people from the local communities. The facilities meet high environmental standards. For instance, they use LPG as fuel in order to minimise pollution. The water management system uses resources sparingly. MINT's attention to detail goes all the way to the LED lights and refrigerator specifications in restaurants.
The Thai government recognises these achievements and has awarded Minor numerous accolades including the National Occupational Health and Safety Award and the CSR Excellence Award. Minor Food cooperates with the Ministry of Education and the Office of Vocational Education Commission in internship and work programmes that allow university students to get hands-on experience and additional income during their schooling.
Minor Food is also cognizant of responsible sourcing, traceability and consumer health. The global sourcing team ensures that core products can be traced and meet quality and safety standards. It also has training programmes on food safety and cleanliness on the operations level. The supplier auditing and assessment process is rigorous. The procurement process for Minor Hotel Group similarly relies on strict auditing and assessment.
Minor International belongs to a growing class of indigenous Southeast Asian companies that are becoming global players. As Minor expands, it is exporting its success abroad and changing the landscape of global food and hospitality.

Chayut Setboonsarng is a business consultant based in Bangkok.
csetboonsarng@apcoworldwide.com
Cod Satrusayang is a journalist and writer based in Bangkok.
satrusayang.thanarithcod@dpa.com

Links:
Minor International Annual Report 2014:
http://mint.listedcompany.com/misc/ar/20150305-mint-ar2014-en-03.pdf
Open Letter from Minor Group's Bill Heinecke:
http://www.tatnews.org/open-letter-from-minor-group%E2%80%99s-bill-heinecke/