Technology
Telemedicine centres bring health care closer to excluded communities
In Brazil, telemedicine centres are improving health access in Amazon communities which are often distant from physical health centres in the vast country.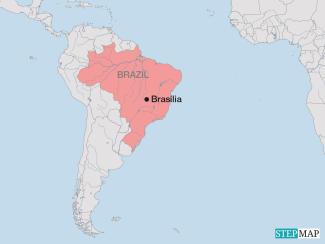 Stepmap
When 39-year-old Inês Cristina's 8-year-old son, Nicolas, was mentally unstable one morning last year at Tumbira Riverine Community, she could not travel the long distance to Manaus, the capital of the Brazilian state of Amazonas, to see a doctor. But she got an appointment at a telehealth centre nearby instead.
Cristina says that she waited in a short queue and when it was her turn, she talked to a psychiatrist in Manaus. "I was going to see a psychiatrist with my son who was not feeling well. In my case, we did not need any medical prescription but if we needed one, the doctor would have given it. We would buy the medicine at the nearest town along the river."
The health physician who attended to Cristina was located about a four-hour speedboat ride from her home. She was at first sceptical about the whole idea. "I had this strange feeling. This was weird to me. I was used to going and seeing a doctor whenever I need medical assistance," she says.
The telemedicine health centre is a project by a Brazilian-based non-governmental organisation, Foundation for Amazon Sustainability (FAS), rolled out in 2020 during the Covid-19 pandemic when people could not travel due to lockdown measures that prohibited travel to curb the spread of the deadly virus.
The telemedicine health centre relies on the use of solar power stored in lithium batteries. Most parts of the Amazonas are not connected to the main grid electricity. The power is enough to run the health centre, a local school and houses of some residents, health-care workers, FAS staff and teachers. The centre is also connected to the internet and residents, visitors, tourists can access it for free.
The telemedicine health centre offers additional programmes such as guidance and counselling and also training for health professionals to acquire or update knowledge for the benefit of the community. FAS runs 95 tele health service centres located in 28 municipalities, 22 conservation units and 16 indigenous lands. The organisation has reported that more than 2,000 people accessed health services at their facilities between 2020 and 2022.
Cristina, a teacher by profession, who has been working at the Tumbira Riverine Community health centre for 11 years, says that people from nearby communities that do not have health centres come to Tumbira to access tele health services. She says that she does not have to worry about having to travel long distances to access health services anymore in case her son and grandmother or even herself falls sick. "This is indeed a lifesaver," she says.
Farai Shawn Matiashe is a journalist in Mutare, Zimbabwe. Reporting for this story was supported by the United Nations Foundation.
matiashefarai@gmail.com