Climate-risk insurance
Promising examples of climate-risk insurance schemes
Climate-risk insurances have been attracting increasing attention in recent years. They contribute in meaningful ways to cover vulnerable communities.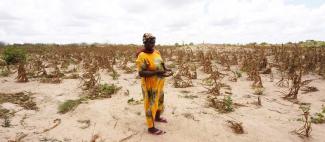 picture alliance / Xinhua News Agency / Dong Jianghui
However, far too many people remain uninsured even today (see Dirk Reinhard on www.dandc.eu). 
There are many promising examples. One of the largest is the InsuResilience Global Partnership, which was launched in 2017 by the G20 in cooperation with the V20 (Vulnerable Twenty – a group of particularly climate vulnerable countries). The partnership is designed to develop suitable insurance solutions for covering the climate and disaster risks of the most vulnerable people. In terms of better access to insurances, more than 150 million people in developing countries and emerging markets benefited in 2021, and more than 60 million of them obtained micro insurances. The goal is to cover another 500 million people by 2025.
The Insurance and Risk Finance Facility (IRFF) will help to make it happen. It was recently launched by the UN Development Programme (UNDP) with an eye to boosting insurance and risk finance in 50 developing countries and emerging markets. Germany's Federal Government has contributed € 35 million to the IRFF.
The private sector is engaged too. The Insurance Development Forum (IDF) is an industry-led public-private partnership. The IDF uses insurances and other risk- management tools to make vulnerable people and countries more resilient to the climate crisis and disasters in general.
Four other meaningful projects are:
India's Pradhan Mantri Fasal Bima Yojana (PMFBY), the world's most extensive agricultural insurance system at the nation-state level. It is subsidised and currently serves 25 million farmers, most of whom are smallholders.
The Caribbean Catastrophe Risk Insurance Facility (CCRIF). It is a multi-country risk pool, which offers insurances for the damage done by hurricanes, heavy rainfall and earthquakes. Nineteen Caribbean and three Central American governments are members.
The African Risk Capacity (ARC). It was established in 2012 and supports 35 member countries to prepare for extreme weather events as well as epidemics. It is involved in early warning systems, insurance schemes and contingency planning, especially for droughts.
The R4 Rural Resilience Initiative, which the World Food Programme and Oxfam America launched in 2011 to improve food security and income is in rural areas. In 2021, it had an outreach to 395,000 households in 14 countries in Africa, Asia, Latin America and the Pacific Ocean.     

Renate Bleich is the chief executive of Munich Re Foundation.
rbleich@munichre-foundation.org
Dirk Reinhard is her deputy at Munich Re Foundation.
Christian Barthelt is a senior project manager at Munich Re Foundation.