Waste management
Circular economy is an opportunity for society
Establishing a circular economy is a key strategy for achieving sustainability goals. The basic idea is to reuse all waste. The full potential has yet to be tapped. It will also help to raise living standards.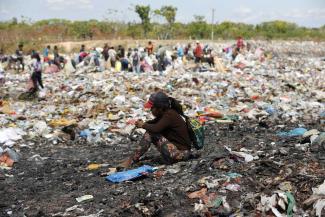 picture-alliance/EPA/MAURICIO DUENAS CASTANEDA
A successful transition to a circular economy requires more commitment and investment from business, policymakers, research and civil society. Policymakers and business increasingly recognise the economic risks inherent in the present linear economy and are working to align supply chains and business models with a circular economy in sectors such as industry, agriculture, construction and energy. Nevertheless, waste volumes keep growing – and so does demand for natural resources.
According to the World Bank, 2 billion tonnes of so-called municipal waste are generated worldwide every year, and the figure could be 70 % higher by 2050 – at 3.4 billion tonnes. Municipal waste does not include waste generated by large companies. The UN World Food Programme estimates that an additional 1.3 billion tonnes of food are wasted every year. At the same time, less than 10 % of raw materials which waste contains is recycled. Vast amounts of valuable materials are thus simply discarded.
The pollution caused by municipal  waste poses a threat to biodiversity, human health and major economic sectors. Improper waste disposal carries high costs for a nation's economy. Municipalities, which are mostly responsible for waste management and recycling, are often overburdened with these tasks.
This is one of the reasons why, according to various estimates, at least 15 million people worldwide informally collect recyclable garbage items. Those waste pickers are not sufficiently integrated into the formal waste-management system. They have no secure income, no work safety, no health insurance and are often victims of discrimination.
According to the UN, growing mountains of waste are one of the four main problems that stand in the way of achieving the Sustainable Development Goals (SDGs). Waste management currently accounts for about 1.6 billion tonnes of climate-­damaging greenhouse gases, or about five percent of global greenhouse-gas emissions, according to a World Bank study. Unless corrective action is taken, those emissions could grow to 2.6 gigatonnes by 2050.
As a federal enterprise for international cooperation, the Deutsche Gesellschaft für Internationale Zusammenarbeit (GIZ) GmbH is committed to boosting circular economy approaches in collaboration with partners in lower-income countries and promotes cooperation between governments, businesses, civil society and consumers. One important goal is to speed up the transformation of the waste sector from a waste-disposal service to a sustainable resource-management system.
However, circular economy is more than just waste management for GIZ; it also includes the environmentally friendly extraction and recycling of resources, product design with a focus on efficient use of non-fossil or recycled materials, repairability, resource-efficient production, new business models such as leasing instead of buying products or sharing models as well as reuse and refill systems.
Involving the informal sector
GIZ advises on the development of prevention and recovery concepts as well as waste management strategies. It organises trainings on logistics, treatment and storage and promotes private-sector participation as well as informal-sector integration in waste collection and recycling.
Another goal is to protect the environment and create employment opportunities by harnessing resource-efficient circular economy solutions. For example, organisational and contractual models are developed with partners to encourage the integration of informal workers.
GIZ also promotes citizen participation and raises awareness of consumption options that avoid waste. Examples include the use of reusable rather than disposable products or alternatives to plastic bags. In East and Southeast Asia, GIZ worked from 2019 to 2022 on developing and implementing models for resource-efficient production and sustainable consumption of plastic on behalf of the German Federal Ministry for Economic Cooperation and Development (BMZ) and the EU. Among other things, it organised policy dialogues, financed pilot projects and engaged in awareness-raising campaigns to reduce marine pollution there.
Knowledge-sharing is also important. GIZ arranges contacts with German and international circular economy companies and thus promotes technology cooperation. It also advises on initiatives and funding instruments for new technologies and sustainable business models.
Measures in the waste-management sector are increasingly combined with change processes in manufacturing. In Colombia, for instance, GIZ on behalf of BMZ has worked with municipal authorities to develop programmes that increase recycling and has identified new business models for waste collection and plastic recycling with companies, while informal waste collectors receive training and support in formalisation. In parallel, innovative circular economy approaches are supported at companies in the textile, packaging and household appliance sectors.
Waste avoidance, waste recovery, use of recycled materials and energy production from waste reduce greenhouse-gas emissions. For this reason, GIZ is also committed to sharpening the focus on circular economy measures in national climate plans and international climate discussions.
The observation of circular-economy rules offers enormous potential for sustainable development. If governments, businesses and civil society work closely together,  it will be possible to combat the climate crisis, create employment and strengthen the economy.
Sabine Schwab is a specialist planner at the GIZ Competence Centre "Water, Wastewater and Waste".
sabine.schwab@giz.de
Ellen Gunsilius is a specialist planner at the GIZ competence Centre "Environment".
ellen.gunsilius@giz.de
The article reflects the personal opinion of the authors.