Pandemic side-effects
Two daily meals of porridge
Uganda's poor are struggling with the Covid-19 lockdown. The government has begun to distribute food to vulnerable people.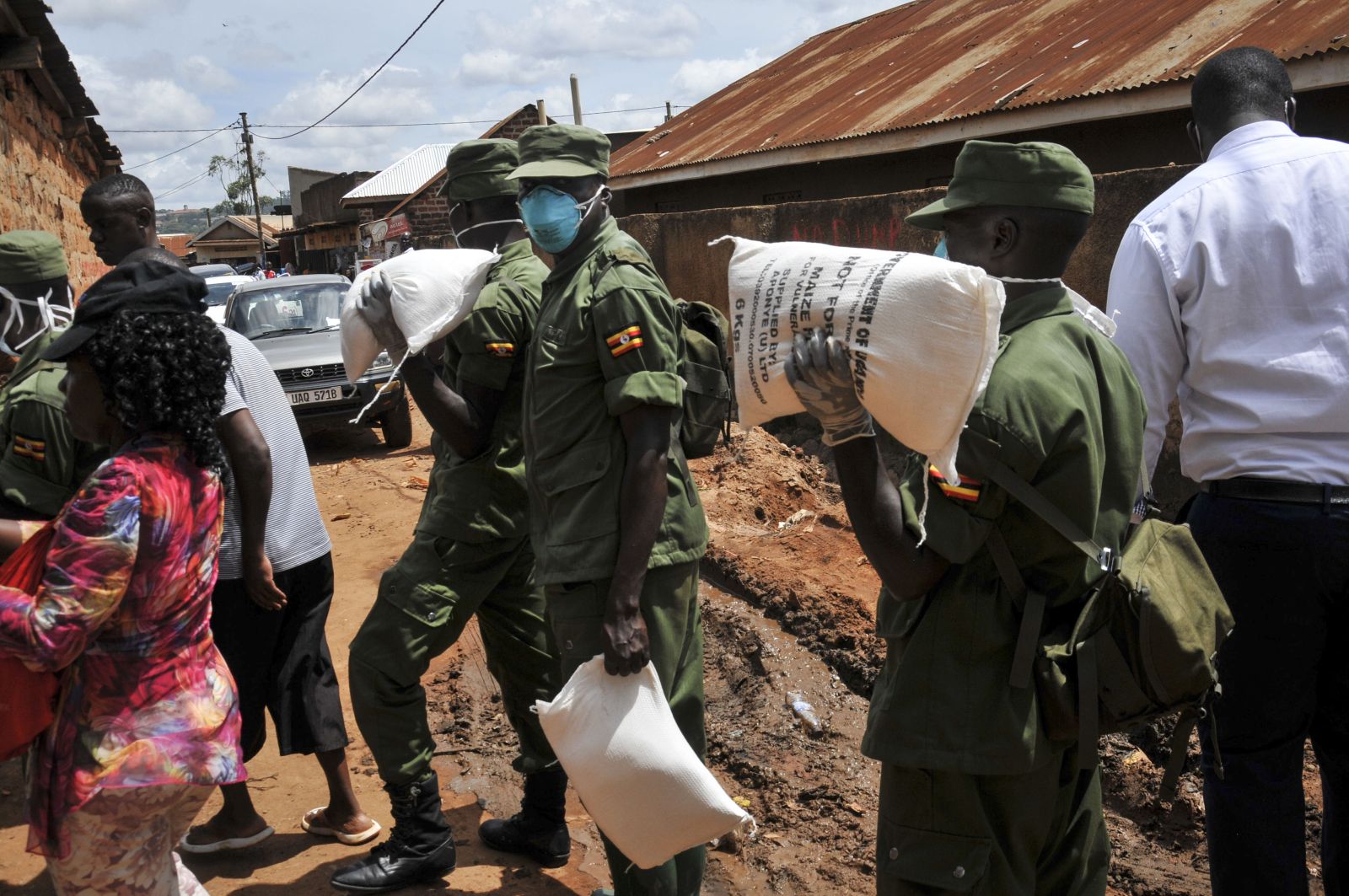 Kabuubi/picture-alliance/AP Photo
Rachel Namaganda is an unemployed mother of five. Her children are four to 13 years old. The family lives in Wakiso District, which surrounds the capital city, Kampala. Rachel says she is finding it hard to feed her kids: "Every sunrise, I am not sure what my children will eat." They currently eat two meals per day – and both consist of porridge. Many people share that fate.
According to Hillary Onek, Uganda's minister for relief and refugees, 30 % of the urban population currently need humanitarian aid. The background is the lockdown. President Yoweri Museveni first ordered schools and  places of worship to close. Social gatherings have been forbidden. Later, public transport was stopped and non-essential workers told to stay at home. Moreover, a night curfew is in force. The lockdown will go on until 5 May. The country seems to be paralised. The lockdown caught many Ugandans unprepared and without food. 
Food prices are rising fast. In some places, a kilogramme of beans now costs 6000 Ugandan shillings. That is twice the price of February. The government has warned against hiking prices, and some traders have been arrested. Need and desperation are driving prices nonetheless. Not getting enough to eat is especially tough for sick people. It reduces their recovery chances.
On the upside, Uganda's government began to distribute food items like maize flour, beans and salt to vulnerable people in Kampala and its suburban areas. Sick people receive extra food including sugar and powdered milk. The efforts are good, but do not reach everybody in need.
Apart from food scarcity, there are other worries. A Congolese refugee who rents a room in Wakisa District reports that she is sharing a washroom with 12 other neighbours. It is a "nightmare", she says: "Imagine the risk of touching a door handle infected with coronavirus; I am more scared of catching coronavirus than hunger."
People are tense, moreover, and domestic abuse is increasing. The Federation of Women Lawyers is registering more cases than it normally does. Lillian Adriko, the organisation's chief executive, says, it recently got 29 calls in a single week with women reporting domestic violence related to the  economic situation. This is a high number, since this kind of violence, which is often linked to men's excessive alcohol consumption, is normally hushed up. Now, however, fighting often seems to erupt about who in the family gets how much to eat. The organisation is appealing to local leaders to try to resolve some of the cases at the community level.
On Monday 27, the media reported that 79 Covid-19 cases had been reported in Uganda. So far, no one has died of the disease.
Gloria Laker Aciro Adiiki is a Ugandan Journalist. She is also a peace journalism activist involved in supporting refugees.
Twitter: @GloriaLaker