Prostitution
"The worst is yet to come"
Prostitution in South Sudan is increasing in the severe economic crisis. After independence in 2011, the capital Juba became one of the fastest-growing cities in the world. It attracted investors and traders – and commercial sex became more common. Recently, the decline in crude oil production as one consequence of more than two years of civil war in the country, has been exacerbating poverty. As a means of survival, more and more girls and women opt for prostitution.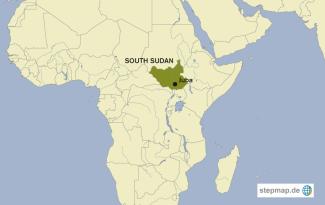 stepmap.de
Diang Gatwech (not her real name) waits for customers along Airport Road. Earning enough for a living is difficult, she says: "I combine this with other precarious jobs." According to her, most sex workers "are new in the business and embarrassed when recognised." Diang sees sex work as a temporary thing. "I had never thought of it, but after months of earning less than 400 pounds (approximately $ 15), it was the only way to make ends meet." Her dream is to make some money and "start a business."
Although prostitution is illegal, it is practiced in hideouts masquerading as lodges. Gumbo Business Centre, for instance, serves as a transit area for many trucks that deliver goods into Juba, thus making it a strategic place for many travellers in need of cheap accommodation. Prostitution is thriving there. The presence of thousands of soldiers in and near the capital means more customers too.
Vicky, as she calls herself, got pregnant by a soldier who later was killed. "My parents disowned me," she recounts. Nobody "took care" of her, so she ended up as a sex worker in Juba. She says she is "lucky if I can make 200 pounds a day." Another school dropout says sex work is her last recourse:  "I am not a prostitute; I just hustle to make ends meet. My parents are dead and I have to take care of myself."
In today's South Sudan, prostitution has become a survival strategy. Traditional society, however, sees it as a proof of moral decay.
In 2012, there were 3,500 sex workers in Juba; in 2014, the figure rose to 10,000, according to the civil-society organisation "Confident Children out of Conflict" (CCC). But Rojina Pitia, a street-worker in the Jebel area of Juba, says the real figure is far higher. The sex business is growing fast, she states. "There are many newcomers on the streets, and this has pushed the prices down." In view of the economic collapse and growing levels of poverty, she predicts: "The worst is yet to come."
Small wonder that South Sudan's number of HIV infections rose from 13,000 to 18,000 between 2013 to 2015, according to UNAIDS. Janet, a sex worker, says: "Many customers – particularly soldiers – refuse condoms and force you to have unprotected sex." In her experience, practising safe sex is next to impossible. "When you tell a man to use a condom, he points a gun at you."

Parach Mach is a journalist and lives in Juba, South Sudan.
parachmach@gmail.com

Link:
NGO "Confident Children out of Conflict" (CCC):
http://www.confidentchildren.org/