Jobs
"Incentives for behaviour change"
It is estimated that only about 40 % of garbage is formally collected in Lagos, Nigeria's largest city and most important business centre. Recycling makes economic sense, however, and a local start-up called Wecyclers is beginning to make a difference. Co-founder Bilikiss Adebiyi-Abiola told Eva-Maria Verfürth about her approach.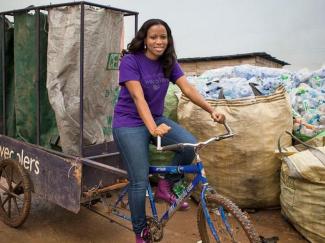 Wecyclers
How did you get the idea to found Wecyclers?
The idea for Wecyclers developed while I was studying at the Massachusetts Institute of Technology's Sloan School of Management in the USA. Before, I had worked as a corporate software engineer at IBM for five years. I was assigned to do a study project to help people at the bottom of the pyramid – people who live on less than two dollars a day. I decided to work on waste and focus on its uses, collection and processing. Our project team saw that there was a huge potential in the waste-recycling sector in Nigeria. The reason is that manufacturing businesses need cheaper and easier access to raw materials. There is demand for their goods in Nigeria and abroad. I decided to move the idea forward; and that is how Wecyclers was born.
Don't people from low-income communities have more urgent problems than recycling?
Well, urban waste management systems tend to be overburdened in the developing world. Garbage clogs waterways and makes living conditions unsanitary for millions of people. The health hazards are serious. Moreover, the blight of unmanaged urban trash undermines the pride that people normally have in their communities. At Wecyclers, we solve both problems by collecting recyclable waste and providing sanitary services.
Why do you use bicycles for collecting the garbage?
We call our cargo bicycles wecycles. They are designed and manufactured locally and are operated by youths from local communities. We decided to use wecycles because they were a low-cost solution; they also provide us with the flexibility to navigate densely populated neighbourhoods.
How do you make money?
We make money by selling processed recyclables to recycling companies, sponsorships and contracts.
What incentives do you offer clients?
Households that recycle with Wecyclers get points for each kilo of waste. Over time, the households accumulate points, and the amount depends on their level of participation. They can exchange the points for specific rewards, including basic household items, mobile phone minutes and various sponsored prizes. This way, the benefits of recycling become tangible. We use incentives to encourage people to take up the recycling initiative willingly.
What do your clients say about your approach?
They absolutely love it and they are glad that they are part of an initiative that is helping to improve the current state of the environment. Since inception we have registered over 10,000 households to our service and created over 100 jobs.
You cooperate with the Lagos Waste Management Authority (LAWMA). How did you establish this cooperation?
As a waste management company that is focused on recycling, we have to collaborate with LAWMA. For instance, we had to get an authorisation for collecting recyclable wastes. LAWMA, moreover, has facilitated our work by providing us with spaces that serve as our waste collection centres as well as with tactical support and advice. They have been an invaluable partner and support system.

Bilikiss Adebiyi-Abiola is the co-founder and chief executive officer of Wecyclers in Lagos.
bilikiss@wecyclers.com
http://wecyclers.com/