KfW financing
Investing in better networks
For a long time, the development of renewable energy has not been confined to industrialised countries anymore. Today, the lion's share of growth is happening in the developing world, but it is not spread evenly.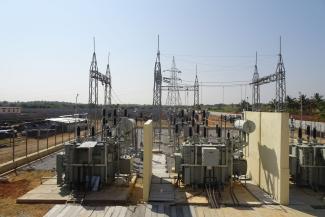 sb
The top countries generating electric power from renewable  sources include Brazil, India, Turkey, Mexico, the Philippines and Costa Rica. On behalf of Germany's Federal Government, KfW Development Bank has supported this trend in countries concerned.

For example, it made the largest single contribution to financing Africa's most powerful solar complex. The facility is currently under construction in Morocco at Ouarzazate. It will soon produce eco-friendly electricity for 1.3 million people. KfW is also financing wind-power plants in Egypt as well as geothermal power plants in Kenya and Indonesia.
The development bank is increasingly focusing on investing in networks and storage facilities. In Tunisia, for example, the bank is funding North Africa's first grid-connected battery-storage facility near the city of Tozeur in conjunction with two solar parks. KfW is also engaged in India. The country's formerly largest solar power plant came on stream in 2013 in Sakri. That event marked the breakthrough for photovoltaics in India. Today, thanks to the fall in costs, development of this technology is driven by the private sector.
Sakri triggered the development of "green energy corridors". More than 7,500 kilometres of power lines have been installed to carry electricity to the country's high-consumption areas. KfW is supporting such measures to the tune of € 1.4 billion on behalf of Germany's Federal Ministry for Economic Cooperation and Development (BMZ).
In West Africa, too, there is considerable potential for low-cost electricity from wind, solar and hydro power, although it is unevenly distributed across the region. Therefore, the Economic Community of West African States (ECOWAS) has set up the West African Power Pool (WAPP). Its mission is to build a regional power distribution network. On behalf of Germany's Federal Government, KfW is financing a number of transnational lines for the network, linking Togo to Benin, for example, and Senegal to Gambia. The development bank is also supporting the development of various renewables-based power plants.
German assistance is also flowing into a transmission network under gradual construction in the Balkans. The infrastructure project is deemed to boost the use of renewable energy by permitting the exchange of electricity between Albania on the one and Montenegro, Kosovo and North Macedonia on the other hand.