Climate diplomacy
More must happen
The Africa Climate Summit in Nairobi in early September was an important opportunity for African countries to adopt a shared agenda. While governments managed to agree on several important issues, civil-society organisations did not get the attention they deserve.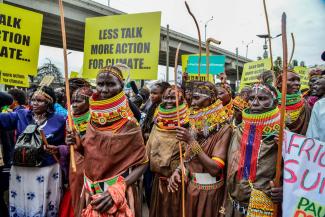 picture-alliance/ZUMAPRESS.com/James Wakibia
The summit was the first of its kind, hosted by Kenya's government and the African Union. It contributed to shaping the African narrative ahead of the UN climate summit in Dubai in December. Kenya's President William Ruto had previously emerged as a leader on climate issues. It came as no surprise that the main theme of the Nairobi conference was green growth.
Africa is often painted as a victim in the climate crisis. The continent's contribution to greenhouse gas emissions is below four percent, but its nations are hard hit and their ability to bounce back from extreme-weather disasters is limited. The summit in Nairobi showed Africa in a light, emphasising its potential as a hub for solutions and deal maker. Government officials appreciated the opportunity.
Not everyone was equally happy. Civil-­society organisations, indigenous groups and youth wanted more to happen. On the first day of the summit, they rallied in the streets of Nairobi. Participating groups feel that the governments' agenda has taken a direction that does not serve climate justice properly.
Adding to the frustration, access to the official summit was quite limited. Voices that should have been crucial in shaping the agenda were not admitted. Some people had traveled to Nairobi from far away, but did not get a chance to attend the summit and share their views. The poor communities who suffer the worst climate impacts were thus excluded once again.
Non-governmental activists expressed dissatisfaction with the fact that carbon markets took center stage in the negotiations. One problem with this approach is that it gives the biggest polluters leeway to keep polluting as long as they can pay. Another downside is that it sidelines the push for the urgently needed loss and damage fund. Indeed, various western governments made pledges towards the Africa Carbon Markets Initiative. The idea is to unlock financial flows to the continent. Merely improving business opportunities, however, is not enough to make progress towards a better future with more sustainable lifestyles. Climate justice demands more.
Another key issue was green minerals. These natural resources are needed in environmentally sustainable technology. Examples include solar power, electric vehicles and green hydrogen. According to research done by the Mo Ibrahim Foundation, Africa holds 30 % of the world's mineral reserves. To meet the expected rise in global demand, production of minerals and metals such as lithium, graphite and cobalt must increase by nearly 500 % by 2050. Such growth is impossible without Africa's resources. However, history shows that resource extraction in Africa has been detrimental to communities as they are left poor, their landscapes are destroyed and some areas become war zones. Related problems were not tackled in Nairobi.
The Nairobi Declaration, which was adopted by the summit, is not useless, however. It will shape Africa's position in Dubai and highlights important issues, including reforms of the international financial architecture. It even proposes a global carbon tax. These issues are important because the current global system is indeed putting Africa at a disadvantage. Moreover, the goal to triple Africa's renewable energy capacity by the end of this decade makes sense too. It is needed to improve the lot of marginalised communities and can contribute to unlocking sustainable energy supply globally.
However, more must happen to empower poor people, as the young generation is demanding. Ahead of the official summit, we convened the Africa Youth Climate Assembly with over 600 delegates from across Africa. The subsequent Africa Climate Summit may not have met our expectations fully, but it was one step towards the Africa we want. We demand – and personally represent – the green transition to the net-zero world that humankind needs. We will keep fighting to be heard.
Abigael Kima is a Kenyan climate justice activist and produces the Hali Hewa Podcast. 
abigaelkima@gmail.com