Finances
Frozen budget support
International donors have frozen their budget support for Malawi. As a consequence, the government is now completely paralysed. Three years ago, they had contributed about 40 % to Malawi's budget.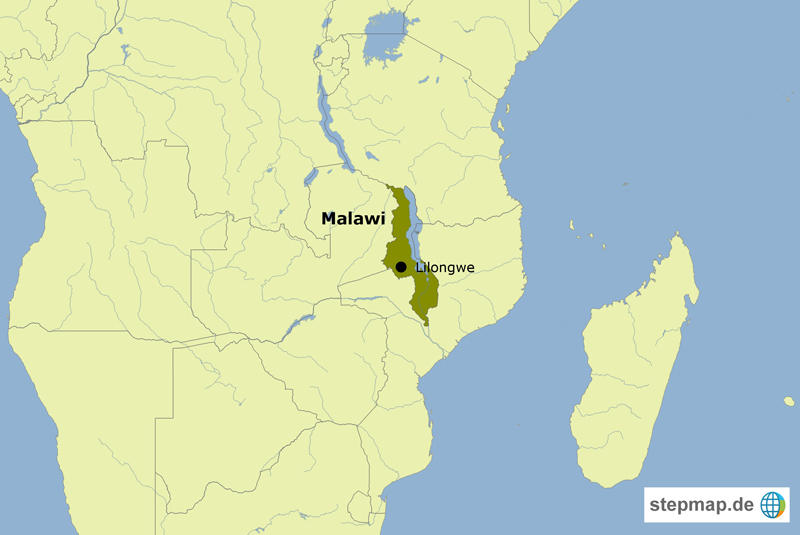 stepmap.de
In the lack of public funding, hospitals are running out of drugs. Patients are dying of curable diseases such as malaria.
Three years ago, under the former president Joyce Banda, a financial scandal dubbed "cashgate" surfaced: During Banda's presidency, an estimated 24 billion kwacha (equivalent to $ 55.8 million) was stolen by government officials and private businessmen through dubious contracts. Consequently, donors froze aid to Malawi.
Malawi's parliament has recently passed a budget worth $ 2.1 billion for the 2015/2016 financial year. This is what the government needs to spend, but the truth is that it is struggling to raise the money.
All government departments are failing to provide services. Police officers do not get their salaries on time. Many of them say that the situation is so dire that their operations have been grounded. Innocent Botomani, who is in charge of the police's funds, has admitted that police officers are buying fuel on credit. He asked petrol stations to grant them credit.
The health system is also been affected by lack of funding. The poor suffer in particular. Patients are told to go to private clinics and hospitals for medical attention, where some government doctors and health workers work part-time. Ambulances have become useless because they lack fuel. The government has no money to pay salaries and wages to civil servants, either. Most got their May cheques only by mid-June.  
In order to raise money, the government has imposed new and higher taxes , including taxes on internet use and text messaging. It is also taxing non-interest loans. Business people call the measures "scary and retrogressive". The taxes are a disincentive for foreign investors. The Institute of Chartered Accountants in Malawi (ICAM) and the Malawi Confederation of Chambers of Commerce and Industry (MCCCI) have called on the government to reverse some of the decisions in order to keep attracting investors. ICAM president Chiwemi Chihana describes some of the taxes as "impractical and difficult to implement". An official from the Ministry of Finance replied that the government was ready to listen to the private sector regarding the new taxes imposed on businesses.
Malawi is unable to cope with a zero-aid budget. The suspension of donor aid to Malawi is understandable, following revelations of embezzlement. But it has caused serious problems in all sectors including health, security, education and the environment. Essentially, the people are being punished for the wrong-doing of their leaders.
Raphael Mweninguwe is a freelance journalist based in Malawi.
raphael.mweninguwe@hotmail.com