Summer Special
Fleeing civil war
They have lost everything, they are deeply traumatised and yet they refuse to give up hope. In "The Beekeeper of Aleppo", a young author draws attention to the fate of thousands and thousands of refugees. This item is the third in this year's summer special with reviews of artists' works with developmental relevance.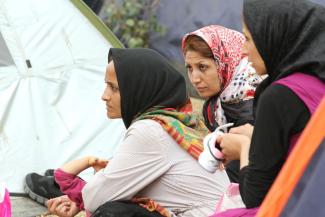 Ayhan Mehmet/Picture-alliance/AA
Nuri is a beekeeper. He was actually supposed to take over his father's tailor's shop in Aleppo, but when his cousin Mustafa introduces him to beekeeping, Nuri makes a life-changing decision. Mustafa is a professor at Damascus University, and while he commutes back and forth between Aleppo and Damascus, Nuri takes care of the hives. The venture goes well. Before long, they have 100 hives producing 10 tonnes of honey a year. Mustafa opens a shop, attracting customers from Europe, Asia and the Gulf States. His plan is for his daughter Aya to take over the store later.
Nuri leads a simple but happy life with his artist wife Afra and young son Sami. But the war draws closer. Mustafa sends his wife and daughter to friends in England. He himself hesitates, unwilling to abandon his hives. One night, however, the hives are destroyed by vandals, whereupon Mustafa decides to follow his wife and daughter. But then his teenage son Firas disappears.
While searching for Firas, Mustafa finds work in a morgue. His job is to record the cause of death of the corpses. Eventually, Firas also ends up on his autopsy table. As the cause of death, Mustafa writes "This broken world". Only a week later, Nuri's son Sami dies in an explosion while playing in the garden one last time before the family wanted to leave for England.
Afra, who is blinded by the explosion, refuses to leave. She cannot face leaving Sami, who is buried in the garden. But the pressures mount. Mustafa disappears after observing four men execute boys by the river – and shooting three of them dead. Nuri also repeatedly witnesses cruelty and destruction. "I wished I could wipe away what I had seen. I wanted to erase it all from my memory," he says. When fighters seek to forcibly recruit him and destroy the family home, Nuri and Afra have no choice but to finally flee.
They are taken to the Turkish border by smugglers. On the banks of the Orontes, dramatic scenes unfold as they set out to cross the wide border river at night with other refugees, some in "big cooking pots". On reaching Istanbul, they find they need to wait for better weather before attempting the crossing in an inflatable boat to Greece. There are regular reports of boats sinking and people drowning.
Eventually they end up in Athens, stranded in an illegal camp in Pedion tou Areos Park along with thousands of refugees, mostly from Afghanistan but also from other countries. Strange things go on around them. "Here in the park, it feels as if we have all been forgotten," Nuri says. "In this place, people die slowly, from the inside. One by one, they die."
Wherever possible, Nuri tries to keep in email contact with Mustafa. He thus learns that Mustafa has made it to England and is trying to start up a beekeeping business again. The hope of joining Mustafa in England and their love for each other keep Afra and Nuri going.
The couple are in the very fortunate position of being able to raise enough money to pay smugglers. So, unlike most other refugees, they manage to escape from the proverbial "hell on earth" – but they pay a high price, not only in monetary terms.
At the beginning of the book we find them in a refugee shelter preparing their application for asylum with the help of a social worker, so it is clear from the outset that they eventually make it to England. But the nightmare is far from over. They are both plagued by traumatic memories of their experiences in Syria and on the road.
Christy Lefteri grew up in London as the daughter of Cypriot refugees. In the summers of 2016 and 2017 she spent months in a refugee camp in Athens. Her conversations with people there inspired her to write this compelling sensitive book, for which she was awarded the Aspen Words Literary Prize in 2020.

Book
Lefteri, C., 2019: The Beekeeper of Aleppo. London, Zaffre.

Dagmar Wolf is the editorial assistant at D+C Development and Cooperation / E+Z Entwicklung und Zusammenarbeit.
euz.editor@dandc.eu