Technological development
Affordable internet access for all
The availability of affordable and stable internet access is key to driving entrepreneurship and business growth. In Zambia, internet access is still limited and even where it exists, more needs to be done to make it reliable and affordable for all. The Starlink company of American billionaire and entrepreneur Elon Musk sees great business opportunities in the country.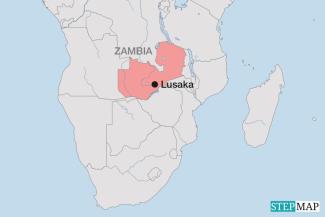 stepmap.de
Many rural areas of Zambia have poor internet infrastructure. Service providers like MTN and Airtel complain about the low number of users in these areas. However, the high cost of data may explain why many local people shy away from using the internet.
Veronica Siame, a businesswoman from Nakonde district in northern Zambia, used to run her mobile-money kiosk in a rural area. However, she decided to relocate to a favourable urban centre with adequate internet connectivity. "I am happy my small business is thriving now and stands to grow from the availability of the internet because my enterprise depends on it even when internet access is very expensive," Siame says.
Another businessperson, Albert Chungu, who supplies mining firms in Zambia's Copperbelt, recently missed a business opportunity worth millions of Kwacha because he was experiencing poor internet access. He says that while he was offline, the companies advertised an invitation to tender which he only saw days past the submission deadline.
A Dutch private internet service company, Surfshark, in its Digital Quality of Life index 2022 has ranked Zambia 105th in the world by overall digital wellbeing. The country's internet quality, speed, stability and growth ranks 116th and is 68 % worse than the global average. Surfshark evaluates countries based on five digital wellbeing pillars including internet quality, e-government, e-infrastructure, internet affordability and e-security.
The country's struggles with internet quality and access have attracted the attention of the private sector. Starlink, a satellite internet constellation operated by SpaceX, has earmarked Zambia for its fast affordable internet project.
Zambia's president, Hakainde Hichilema met the Starlink delegation in New York and invited the company to his country. "We intend to quickly sort out our connectivity as this is the only way we can have a truly functional e-government of the 21st Century. We are working round the clock to ensure that facilities such as technology are put to great use so that jobs and business opportunities can be realised," Hichilema said.
Statistics from the Zambia Information and Communications Technology Authority (ZICTA) show that only about 56 % of Zambians have internet service, with less than one percent connecting through personal computers. Most people access the internet using smart phones.
It is envisaged that with more internet users and better internet services in Zambia, there will be affordable education, easy access to health and shopping services, increased productivity, and technological development.
Internet access is a challenge in many more other African countries. Zambia is one among many other African countries targeted by Starlink in its African continent penetration drive. Its internet service is already available in Nigeria and Mozambique with plans to reach Burkina Faso, Cameroon, Chad, Ghana, Mali and Niger in 2023.