Informal sector
Devastated businesses
Ben Tembo normally earns his livelihood selling second-hand clothing in Lusaka, the Zambian capital. This is an informal business that is popularly known as "salaula", and it has been hit hard by the impacts of the Covid-19 pandemic.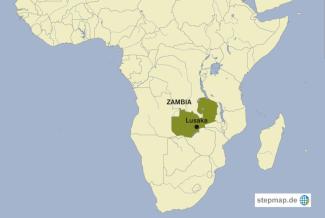 stepmap.de
The background is that salaula merchandise largely consists of used clothes that people in rich countries have discarded. Often, they do not simply throw away their old trousers, shirts and sweaters, but hand them over to charities, which in turn sell them on to export companies. Such goods, however, are no longer being delivered to Zambia because borders were closed to prevent the spread of the novel coronavirus.
Tembo says that many businesses have already collapsed. He worries: "If this global pandemic persists, how are we going to pay our bills?"
According to a report published by the International Labour Organization (ILO) in 2018, not quite 90 % of Zambia's labour force works in the informal sector. It means that businesses are not registered, do not pay taxes and are hardly regulated. It also means that staff do not enjoy social protection. Things are similar in most sub-Saharan countries. Small-scale agriculture and retail markets are typically informal, and wholesale markets are often informal too.
In many places, policy measures meant to limit the spread of Covid-19 have had a considerable impact on the informal sector. The reason is that income-generating activities are made harder or even impossible, and people have to do without the daily earnings they and their families depend on.
To the extent possible, people therefore keep on working. Gertrude Mbao is an example. She knows she is at risk of catching the disease. She gets up at 4 o'clock in the morning and goes to a crowded wholesale market, where she procures vegetables for the small retail business she runs. She then spends the day serving customers, which means yet more contacts with people. "I have no choice but to continue trading at the market despite Covid-19," she says. "I depend on this small business to feed my children."
Some consider her lucky. Her work is essential and can go on. By contrast, restaurants and bars have had to close. The implication is that the people who used to work there have lost their livelihoods. Compounding matters, Zambia was experiencing an economic downturn even before the pandemic started. Government debt was soaring, the national currency depreciating and inflation accelerating. Lockdown policies and fear of the disease have further slowed down economic activity.
Jack Zulu runs a liquor shop near an important bus terminal. His business is still open, but it has been devastated nonetheless. "My daily livelihood has been crippled," he says. He used to have revenues worth the equivalent of about $ 250 on a good day, but now struggles to rake in that much in an entire month.
The disease is still spreading in Zambia. According to the health ministry, the country had registered almost 13,000 cases by 7 September, and almost 300 patients had died. Many people feel, however, that the economic pain caused by preventive measures is incommensurate with the risk.
The Jesuit Centre for Theological Reflection (JCTR) has appealed to the government to ensure that disease-related restrictions do not make poor households face starvation. This Catholic outfit does advocacy work apart from research and education, promoting social justice in Zambia and Malawi. However, Zambia's government is cash-strapped. Decisions concerning how to protect the people from a disease that is still not well understood and in safeguarding their livelihoods are obviously very difficult.

Derrick Silimina is a freelance journalist based in Lusaka. He focuses on Zambian agriculture and sustainability issues.
derricksilimina@gmail.com