Migration
Life on hold
Some of the refugees seeking shelter in Germany or elsewhere in Europe are unaccompanied minors. Lacking the support of a family, they struggle to start a new life. Government agencies and civil-society organisations help them to find their feet in the host country.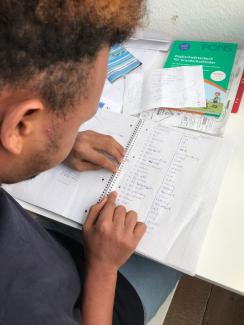 Breuer
In Dormagen, a town in the western German state of North Rhine-Westphalia, a teenager is sitting in his small room on the second floor of an apartment building. Scattered on his desk are a German-English dictionary, some loose sheets of paper and an exercise book with vocabulary lists. Omar (name changed) is from Sierra Leone and arrived in Germany on 27 December 2017. He had travelled through Guinea, Mali, Algeria and Morocco before crossing to Spain in an inflatable boat. He spent four months on the run.
Up to the age of 10, he says, he attended school. But after his mother died, he stopped going there. With daily life marked by violence, fear and threats, he simply wanted to escape. That is all the 16 year old wants to say. For the last week he has lived with other young arrivals in an apartment run by an organisation that seeks to help minors and young adults lead an indepen­dent life.
"Please turn off the light" is written in Persian over the light switch. "They often forget to do it," says Pinar Inal. She heads the independent project. It is run by "Tür­kise Biographien" (turquoise biographies), a civil-society organisation that focuses on intercultural child and youth services and is based in Neuss. Türkise Biographien was set up in 2009 and has walk-in centres and residential units in four different cities in North Rhine-Westphalia.

Motivated youngsters
Inal has been with the organisation right from the start. The focus was initially only on Turkish children and teenagers, but now she provides support for families and children from 16 different linguistic groups. In Germany, people often talk about "migrant backgrounds". In contrast, Inal says: "We are concerned with biographies." The bi­ographies she refers to are those of children, teenagers and the adults who work with them. Omar is one of many biographies.
"He is very motivated to learn German. When we are out together on the street, he will ask: What's the German word for truck? And lights? And street? He wants to know the colour of cars and traffic lights. He says the word in English, I say it in German. So we teach each other languages – I learn English from him, he learns German from me," Inal reports.
The social worker draws on years of experience with child and teenage refugees. A great deal has changed since the end of 2015 when Chancellor Angela Merkel uttered those memorable words : "We can do it". In mid-September, Germany's Federal Government had decided to accept the refugees stranded in Hungary at Budapest's main railway station. Hundreds of thousands of refugees, mostly from Syria, came to Germany via the Balkan route and were welcomed by crowds of cheering people.
"Facilities were overstretched. In some cases, we had to ask the local youth-welfare office for permission to exceed capacity limits for a while," Inal recalls. In the meantime, the numbers have gone down. "We don't get anywhere near as many enquiries now." That tallies with the official statistics: in 2015, asylum requests were submitted by 22,255 unaccompanied minors. In 2016, the figure was up to 35,939. But in the first half of last year, it was a mere 5,702.
At present, there are five youngsters in the Dormagen apartment: four from Afghanistan and Omar from Sierra Leone. The oldest is 18, 16-year-old Omar is the youngest. They get seven hours of support a day, seven days a week. "We go shopping with them. They need to learn to check prices and not buy just any milk. We discuss learning targets and draw up meal and cleaning plans. I am surprised at how tidy their rooms are. It is really not what I'd expect from five teenagers," Inal says.
It was Omar's turn to cook on Monday. He made jollof rice. Asked what it was and what ingredients went into it, he responds with surprise. It is a typical West African dish, he says, very well known. He lists the ingredients in English. "Chicken, rice, tomatoes and those long red ...." The word escapes him and he sprints into the kitchen and returns with a red chili pepper from the fridge. "The dish must have gone down well," Inal says, "because there wasn't a scrap left in the pan the next day."
The four Afghan teenagers living in the apartment with Omar are on a government programme for 16 to 25-year-old new arrivals – "Fit für mehr" (fit for more). They will receive up to a year of training at a vocational school. The curriculum includes German, math as well as cultural and socio-political studies. After completing the programme, the youngsters can either attend a normal school and acquire normal school-leaving qualifications, or they can apply for an apprenticeship. In Germany's "dual education system", an apprenticeship means that a fully operational business trains a young person who is also obliged to spend some time in school. Germany has a reputation for high-quality skilled labour, and the dual education system is the reason. Omar will start to go to vocational school next week. He is very excited. And his hopes are high.

Rights and responsibilities
"These youngsters come to us with high expectations," Inal says. "Some think the state has to pay for everything, and that they have lots of rights and few responsibilities." They also come with many misapprehensions about education. "We explain to them that it is hard to get an apprenticeship without a school-leaving certificate. They all want to work – and that's a good thing – but school comes first," the social worker points out.
A great deal of wrong information is disseminated about life in Germany. A distorted idea of what kind of rights and responsibilities mark a welfare state has been spread and reinforced by hearsay and social media in recent years.
Omar has no great expectations. He is happy in the shared apartment, he says. "Mrs. Inal and the other support workers are now my family." Today he is alone in the apartment, the others are buying carnival costumes. "I am not going to celebrate carnival, it is too cold outside," Omar says. His body is not yet accustomed to local temperatures. It is minus 3° Celsius outside; his skin is very dry. Inal looks for a cream in the medicine cabinet.
The social worker approves of the fact that help is available for children and young people. They find open doors. "I think the financial support that they receive is very generous, even if some people feel it is still not enough." But she also thinks that closer scrutiny should be given to who actually needs help and who does not – especially where women and children are concerned.
Inal insists that youngsters who can speak German and are socially integrated should not be deported to their countries of origin. "We have seen a number of youngsters sent home when they came of age. It does not happen often but we have had some cases." She expresses regret: "The youngsters panic immediately when they feel rejected." The phase between their appeal to stay in Germany and the final decision is very difficult. "It is a time of uncertainty, they lose interest in school and drop everything. They don't see the point of making efforts any more; they just wait," she adds. Deportations, moreover, frustrate the support workers. After all advice and support they have given, it is hard to see the youngsters being taken away.

Tougher law
New legislation actually makes deportation easier. On 29 July 2017, a law facilitating the enforcement of compulsory departures came into effect. Among other things, it extends the scope for detention pending deportation. It foresees internment in reception facilities and allows the interception of asylum-seekers' mobile phone data. In 2016, a total of 25,375 people were deported, most of them from the Balkan states of Albania, Kosovo, Serbia and Macedonia. But in the same year, Afghan, Iraqi and Syrian nationals were also deported from Germany or "transferred" to other EU countries under the so-called Dublin rules, according to which a refugee seeking asylum needs to submit the request in the country where he or she first sets foot in the EU.
Three of the five youngsters in Dormagen have had their asylum requests rejected and have filed an appeal. One of them is described as troubled, despondent, depressive. Omar's clearing phase is about to begin. It consists of a series of interviews aimed at ascertaining, amongst other things, what medical or psychological treatment he requires. Once the application for asylum is submitted, the waiting begins. It can take the authorities up to one year to decide. In the meantime, Omar can do nothing but hope – and learn German.

Rayna Breuer is a journalist and lives in Cologne.

Link
Intercultural child and youth services organisation "Türkise Biographien":
http://www.tuerkise-biographien.de/