IMF
IMF keeps pressing for more assertive government action
Kristalina Georgieva, the managing director of the International Monetary Fund (IMF), claims that internationally coordinated action worth $ 50 billion can vaccinate 40 % of people in every country against Covid-19 by the end of this year. In the second half of 2022, that share could climb to 60 %. This proposal fits the IMF's recent insistence on governments spending heavily in order to rise to global challenges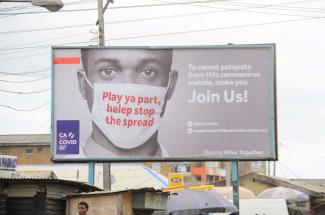 Olukayode Jaiyeola/picture-alliance/NurPhoto
In a recent blog post that she co-authored with IMF colleagues, Georgieva argues that the Group of 20 leading economies (G20) would have to contribute $ 35 billion as grants, adding that member countries have already pledged $ 22 billion. National governments, it is stated, can stem the remaining $ 15 billion, not least with the support of multilateral development banks. The World Bank is indeed cooperating with dozens of countries on vaccine-financing operations, as David Malpass, its president, stated in April. According to him, those programmes might amount to $ 4 billion in June.
The IMF team wants G20 governments to do several things. The most important – amounting to costs of about $ 8 billion – are:
stepping up funding for the international COVAX facility, which is so far only ­meant to vaccinate 20 % of partner countries' populations,
ensuring free cross-border flows of vaccines and ingredients and
donating their surplus vaccine doses (estimated a 1 billion doses).
Georgieva and co also see the need to invest in additional vaccine production, boost health-care capacities in general and monitor the spread of the disease and the evolution of mutants, in order to be able to respond to changing patterns. The authors do not mention intellectual property at all, but insist that action must be taken immediately. Escaping the pandemic, they argue, will bring huge benefits, including a fast economic recovery worth trillions of dollars, with tax revenues increasing by $ 1 trillion internationally.
This proposal fits recent IMF thinking. The focus is on strong government action to rise to global challenges (see José Siaba Serrate in Tribune section of D+C/E+Z e-Paper 2020/12). This pattern was reconfirmed at the IMF/World Bank Spring Meetings in April. Apart from Covid-19, the core topics were economic recovery, debt financing, environmental sustainability, poverty and inequality. Current trends, experts warned, will make violence and fragile statehood worse.
According to IMF data, economic recoveries are diverging dangerously, with poorer countries lagging behind and low vaccination rates in poorer world regions compounding matters. According to the IMF, only two percent of people in Africa, but 40 % in the USA and 20 % in Europe had received at least one vaccine dose in late April.
To improve matters, G20 countries have agreed to extend their debt servicing suspension. It now applies to 73 developing countries and will last until December. In April 2020, they had allowed 43 countries to discontinue debt-related payments because of the pandemic. Moreover, the G20 countries have committed to issuing $ 650 billion worth of new IMF special drawing rights (SDRs), a virtual currency used in internal IMF operations.
SDRs, however, are issued according to how many IMF shares member countries hold, so the least-developed countries benefit the least. About $ 33 billion will become available to African countries without strings attached.
Some say that, in view of the need, this is a mere drop in the bucket. The financing gaps are indeed huge. As Georgieva told African leaders in late May, she believes their countries will need at least $ 570 billion to get back on to the promising path of catching up with rich nations. She pointed out that tax collection must improve in developing countries, but it is obvious, that more has to happen for the international community to rise to global challenges.
 
Link
Georgieva, K., Gopinath, G., and Agarwal, R., 2021: A proposal to end the Covid-19 pandemic.
https://blogs.imf.org/2021/05/21/a-proposal-to-end-the-covid-19-pandemic/

Chimezie Anajama is a sociologist and a development researcher. She is presently completing her Master's programme in Development Management at Ruhr University Bochum in Germany.
vivienchime@gmail.com
Twitter: @mschimezie