Struggling family
Some cannot afford health worries
India's poor find some relief in being allowed to make money again after their countries five-month lockdown. The threat of the deadly disease remains scary, but falling even deeper into the clutches of poverty is more frightening. The truth is that penniless people cannot let worries about Covid-19 slow down their efforts to make money.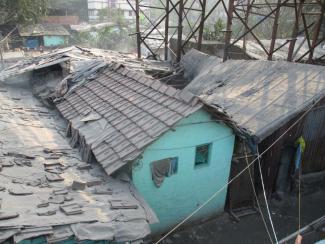 dem
Radha is a young girl of 12 years. She helps her father who runs a small, informal tea stall in a Kolkata suburb. It is really only a small cooking space plus two stools underneath a black-coloured tarpaulin, which is spread between a stick on one side and the fence of an office complex on the other. Vishvajeet, Radha's father reopened it after five months of lockdown, only to realise that the regular customers – young professionals from corporate offices nearby – are still working from home.
Vishvajeet says he earns less than 2000 rupees per month – less than a third of his pre-Covid-19 income. Nonetheless, he is grateful the lockdown has ended. Only few restrictions – mandatory masks, for example – are still in place. When the entire economy was shut down, Vishvajeet had to rely on savings, but they were basically gone after two months.
Sudha, Radha's mother, could not make much money either. She normally works as a maid in wealthy households in Kolkata. However, the employers did not want her to come anymore, afraid she might spread the virus. Some people kept paying her, but many did not. On the upside, some families have begun to give Sudha assignments again since the lockdown has ended.
On the other hand, some of the apartments where Sudha used to work are now empty and permanently locked. The tenants were students or young professionals, who returned home and may not return until colleges and offices begin to function again like they used to.
That may take a while, not least because colleges and schools have gone online. For Radha's family, the increased relevance of remote schooling means exclusion. Poor people are less well equipped and connected digitally than the middle classes. Sudha and Vishvajeet couldn't keep paying tuition for the small private school their daughter used to go to. Indeed, many disadvantaged parents no longer trust government schools to teach their children well (see my essay in D+C/E+Z e-Paper 2019/05, Focus section). It is not clear when Radha will return to lessons again.
People are afraid of Covid-19, but it is even more frightening not to be earning money. "How long can we afford to be scared?", asks Sudha. "Lots of people in our locality get fever, but we need money to cope with whatever happens." In her eyes, "Covid-19 only happens to those who can afford it." The depressing truth is that poor people's illnesses are typically never diagnosed, so they die of "fever". Only prosperous people know whether their relative succumbed to malaria, Covid-19 or another disease.
India's economy is in deep crisis. This year, GDP is set to contract by 10.3 %. The Centre for Monitoring the Indian Economy (CMIE), a think tank, reckons that 6.6 million white-collar jobs were lost between May and August alone. India's informal workers have been hit particularly hard.

Roli Mahajan is a freelance journalist based in Delhi and Kolkata.
roli.mahajan@gmail.com