Pandemic response
Covid-19 as a chance to re-imagine public finance in Africa
Coronavirus does not distinguish developed from developing countries. However, advanced nations are better placed to respond. Sub-Saharan governments must act as well.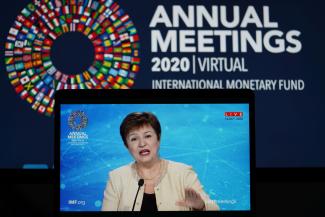 Liu Jie/picture-alliance/Xinhua News Agency
Prosperous nations are setting the tone by providing support to households as well as businesses. Many African countries have been taking a similar approach. Governments know that both the vulnerable informal sector and small and mid-sized enterprises (SMEs) are struggling because of the pandemic. Even Togo, a small West African country, has stepped up its cash-transfer programme for workers in the informal sector. Several countries have reduced taxes and/or provided low-interest loans to companies.
African governments deserve praise for supporting their citizens and SMEs in this time of crisis. Doing so reinforces the social contract. Increased spending, however, leads to an urgent question: where is the money coming from? Some sub-Saharan countries are heavily indebted, and the International Monetary Fund (IMF) reckons that the region's development financing gap will widen to $ 345 billion by 2023.
Indeed, African governments have been on a borrowing spree, and not only since the advent of Covid-19. Even before the pandemic, the IMF had been warning of some countries' debt-to-GDP ratios rising above 60 %. Now many African countries' recovery packages depend on loans from international financial institutions (IFIs) as well as donor governments' bilateral agencies. New debt, of course, adds to the existing burden.
Some warn that debt restructuring will be needed, rather sooner than later, and that agreeing on it will prove far more difficult than in the past. One reason is that private-sector institutions and emerging markets, especially China, are now among the lenders too. They are not expected to readily forgive outstanding loans. On the other hand, some observers argue against debt relief, saying it would encourage corruption (see Leny van Oijen and Christian Penda Ekoka in Focus section of D+C/E+Z e-Paper 2020/10).
The truth is that Covid-19 has deepened corruption in many places. In South Africa, the auditor general has reported foul play regarding Covid-19 relief. In Nigeria, civil-society organisations are sounding the alarm, claiming that government offices have been diverting funds. No doubt, other countries are affected as well – not only in Africa, but in prosperous world regions as well.

No more austerity
On the upside, top IFI leaders like Kristalina Georgieva of the IMF have been encouraging governments to borrow money in the current crisis (see José Siaba Serrate in Focus section of D+C/E+Z e-Paper 2020/11). After all, the double need to protect people at risk and to stimulate stalling economies is obvious. Moreover, long-term economic health urgently requires investments in climate action. For these reasons, the IFI leaders are no longer preaching austerity.
An excellent way to support developing countries now would be to issue new special drawing rights (SDRs). SDRs are an equivalent of money that the IMF uses for internal purposes. The approach has, in principle, been endorsed by the G7. If the rich nations, which dominate the IMF, renounced their share of new SDRs and passed them on to poorer ones, the impact would be particularly strong.
African governments have homework to do too, of course. To widen their fiscal space, they must fight corruption and reduce illicit financial flows. Moreover, they must ensure their tax systems are progressive, charging more from those who can afford to pay more.
All summed up, the pandemic offers us an opportunity to re-imagine public finance in Africa (see Dereje Alemayehu in Focus section of D+C/E+Z e-Paper 2020/11). Let's grasp it.

Chimezie Anajama is a sociologist and a development researcher. She is presently completing her Master's programme in Development Management at Ruhr University Bochum in Germany.
Twitter: @mschimezie