Disaster relief
Support for local communities
Throughout history, human beings have proven to be capable of working together for common causes and supporting one another, often crossing community borders. When disasters strike, people care for one another. This is the experience of the Catholic Health Association of India (CHAI).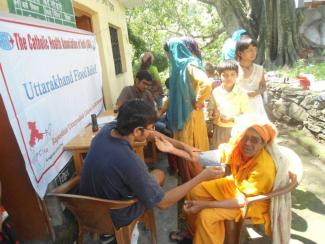 CHAI
CHAI is a pan-Indian network of some 3,500 faith-based hospitals, health centres and regional units (see box). Many thousand people have benefited from our emergency relief. It is important to point out, however, that we see local people as agents of change rather than as mere victims. Their efforts matter, and their communities are indispensable resources.
During Tamil Nadu floods in 2015, for example, neighbours – individuals and households, business establishments and institutions – opened their doors for the victims. Such beneficial action must be encouraged, not bypassed. Often, the local people are quite willing to cooperate with the government and non-governmental agencies.
Natural disasters such as earthquakes, floods and landslides cause enormous pain and unbearable stress. Many survivors have lost loved ones and fear for those who are still missing. Violent conflict and other human-made calamities are even more agonising. The relevance of psychological support and compassionate care are often neglected, especially if aid delivery has become a routine. Everyone has a capacity to be resilient, and that capacity must be supported.
CHAI's holistic approach considers these factors. We train potential volunteers in trauma counselling, enabling them to provide psychological first aid. It is essential to help victims to cope with trauma. Traditional skills must be acknowledged, moreover. In rural India, the modern health-care sector is underdeveloped, so many pregnant women depend on traditional birth attendants (TBAs) (see Ipsita Sapra in D+C/E+Z e-Paper 2017/08, p. 21). When an area is hit by disaster, these TBAs become even more important. After severe flooding and landslides in Uttarakhand in 2013, we began to cooperate with TBAs on behalf of the state government. Updating their skills is a contribution to villagers' disaster preparedness.
CHAI is a learning organisation, adapting to specific situations and heeding the lessons of previous experience. A recent trend is the growing impact of electronic and social media. Digital devices are useful for reaching out to victims. Even where other infrastructure has collapsed, mobile telephony may still be operational. If so, people in remote places can communicate their needs. Moreover, social media can play a significant role in mobilising local resources and financial support. It can also help to form volunteer units spontaneously, and those units then can make arrangements for things like providing safe drinking water, food or shelter in disaster areas.
CHAI appreciates that young, digital-media-savvy volunteers are often aware of environmental and other socially relevant issues. Even while providing emergency aid, for example, they are likely to pay attention to not clogging up drains with plastic waste and opt for other packaging materials instead, such as paper or leaves, to wrap food and other essentials.
CHAI has learned that its faith-based character can be an advantage. Our fulltime staff and our volunteers are committed to the cause, and their commitment is often reinforced by their religion. People approach CHAI without fear of stigma or discrimination. We thus are in a position to provide good and affordable health care to members of underprivileged communities.
Indeed, the fact that the organisation is faith-based helps it to motivate people, including those who belong to other religions. Our mission is to serve everyone in need. As the UN Refugee Agency (UNHCR) emphasises for good reason, the key principles that underpin humanitarian work are impartiality, non-discrimination, respect for the beliefs of others, diversity, empowerment, equality, humanity and protection against any form of conditionality (UNHCR 2014). Inter-faith dialogue matters very much in this context. As a faith-based network, CHAI upholds, promotes and practices these values. That, after all, is the mandate we have from Jesus Christ, our Master.

Fr Mathew Abraham is a medical doctor and the director general of the Catholic Health Association of India (CHAI).
projects@chai-india.org
http://www.chai-india.org

Ramu Karra is is the programme manager who coordinates CHAI relief efforts.
Link
UN Refugee Agency (UNHCR), 2014: On faith-based organisations, local faith communities and faith leaders.
http://www.unhcr.org/539ef28b9.pdf