Freedom of the press
Hundreds of journalists imprisoned
More media workers than ever before have been imprisoned because of their work, according to the organisation Reporters Without Borders. Three countries are primarily responsible for the increase.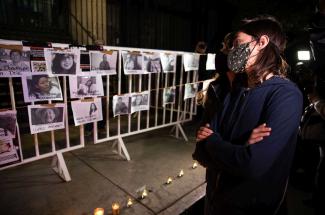 picture alliance / abaca / Suvra Kanti Das / ABACA
Journalists face serious danger in many countries: in the past year, 65 were held hostage and 46 were killed. Two disappeared without a trace. By the end of the year, a total of 488 media workers had been imprisoned because of their work. These figures come from the 2021 annual round-up published by the organisation Reporters Without Borders (Reporters sans frontières – RSF).
By its own account, RSF has never logged so many imprisoned journalists – about 100 more than in 2020. According to the organisation, the increase can primarily be attributed to three countries: Myanmar, Belarus and China. The military seized control of Myanmar in February 2021 (see Katja Dombrowski's article on www.dandc.eu). Since then, the number of imprisoned media workers has risen dramatically, to a total of 53, compared to two in the previous year. In Belarus, the contested re-election of President Alexander Lukashenko led to protests. There are 32 imprisoned media workers there, compared to seven last year.
In China, Beijing's control over Hong Kong has increased, especially since the passage of the so-called national security law in 2020. At least ten media workers have been imprisoned as a result, according to RSF. China is also the country with the most imprisoned journalists overall (127) in the RSF's annual round-up. It is followed by Myanmar (53), Vietnam (43), Belarus (32) and Saudi Arabia (31).
According to the report, 30 media workers were deliberately killed because of their work and 16 more died while carrying out their jobs. RSF states that the total number of dead, 46, is the lowest in almost two decades. The decline is primarily due to the fact that the situation has stabilised in the war zones of Syria, Iraq and Yemen. Among the deliberately killed are four women: the Afghan journalists Shahnaz Roufi, Saadia Sadat and Mursal Vahidi were killed in attacks that the terrorist militia "Islamic State" has claimed responsibility for. The Yemeni reporter Rasha Abdallah al-Harazi was killed by a car bomb in the city of Aden.
Dangerous Mexico
The country with the most media workers killed is no war zone, however: Mexico is in first place for the third year in a row, with seven deaths. RSF explains that local journalists who report on sensitive issues like organised crime are particularly at risk. "Fuelled by near total impunity and in the absence of bold reforms by successive governments to tackle the problem and reinforce protection for journalists, the spiral of violence seems endless", the report states. In January 2022 alone, four more media workers were killed in Mexico.
The RSF round-up cites numerous examples of serious violations of press freedom and human rights. For instance, the Swedish-Eritrean journalist Dawit Isaak, along with his colleagues Seyoum Tsehaye and Temesgen Gebreyesus, have been imprisoned in Eritrea for more than 20 years – under inhumane conditions, RSF reports. RSF claims that Isaak has never been allowed to see his family or an attorney and has been held in isolation.
In Vietnam, according to RSF, authorities detained journalist Pham Doan Trang for more than a year without contact to the outside world before she was sentenced to nine years in prison for "propaganda against the state". Pham Doan Trang won the 2019 RSF Press Freedom Prize for particularly impactful journalism.
The report states that the longest sentence imposed on any media worker – 175 years – is being faced by the famous internet activist Julian Assange, who exposed US war crimes on his Wikileaks platform. The US has accused him of espionage. At the moment, Assange is being held in a high-security prison in London, awaiting the UK High Court's ruling on his possible extradition to the US.

Link
Reporters Without Borders: 2021 round-up.
rsf.org/sites/default/files/rsfroundup_2021.pdf

Jörg Döbereiner is a member of the editorial team of D+C Development and Cooperation/E+Z Entwicklung und Zusammenarbeit.
euz.editor@dandc.eu