Press freedom
Ghanaian journalists face a crackdown on free speech
Ghana is fast sliding backwards on press freedom. Two decades ago, the country permitted freedom of speech. In recent months, however, its police force has been arresting and detaining journalists. Civil-society organisations are outraged and speaking up against the trend.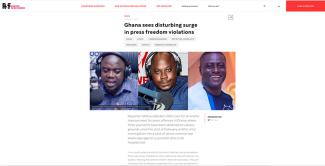 RSF
In 2001, Ghana repealed the Criminal Libel and Sedition Laws and proclaimed journalists can publish and broadcast without fear of official retaliation. But press freedom looks threatened again. In recent months, police have arrested and detained several journalists after they published or broadcast reports critical of public officials.
Instead of the sedition law, the government now uses the Criminal Code and the 2008 Electronic Communications Act to hound critical journalists. Both laws forbid false reporting. Offenders face large fines and up to three years in prison. 
In February alone, several journalists and civil- society activists were arrested and charged. Prominent victims included Kwabena Bobbie Ansah, a host of the radio station Accra FM, and Blessed Godsbrain Smart, a journalist for Onua TV. Adding to the worries, Oheneba Boamah Bennie of Power FM was sentenced to two weeks in prison and a fine worth the equivalent of € 414. He was found guilty of contempt of court hafter stating in public that the president had tried to sway judges in a legal battle over Ghana''s 2020 election results.
This repressive trend has troubling implications for Ghana. The country's reputation in regard to the freedom of expression is actually quite good. It ranked 30th out of 180 countries in Reporters Without Borders' 2021 World Press Freedom Index, ahead of Britain (rank 33), France (34) and the USA (44). The scenario is much better than in Zimbabwe (130) (see Jeffrey Moyo on www.dandc.eu).
"When free speech dies, democracy dies"
On the other hand, the Media Foundation for West Africa, an international civil-society organisation, has identified 150 violations against Ghanaian journalists since 2002. Most were physical attacks carried out by security agencies. In an open letter to President Nana Akufo Addo, the foundation's executive director Sulemana Braimah warned in February: "We cannot love democracy and hate free speech. When free speech dies, democracy dies." 
The recent spate of arrests suggests that press freedom is still not sufficiently entrenched in Ghana's political culture – which, in turn, raises concerns about Ghana's democracy. Free media help to hold state agencies accountable, and only well-informed citizens can be expected to vote wisely. 
The most recent round of arrests of journalists followed articles or broadcasts dealing with official corruption. Some articles or broadcasts had accused President Nana Akufo-Addo''s wife of unlawfully obtaining state land for their foundation''s headquarters. 
Journalists' irritation
Journalists are frustrated. "This arbitrary arrest of journalists is distasteful and defeats the purpose of repealing the criminal libel law," says Emmanuel Mensah-Abludo of the public broadcaster GBC. He points out that wrongly-accused public officials have options for defending themselves. For example, they can: 
complain to the national media commission,
demand a retraction or an apology, or
insist on a publication of their reply to the accusation.
Mensah-Abludo worries that the arrests will dampen free speech and the ability of journalists to hold leaders accountable. ""Now, journalists will be cowed,"" he says. "This Rambo-style arrest and detention flies in the face of our democracy and sends Ghana back to the era of the culture of silence." 
Mavis Okyere is another concerned journalist. She points out that the Covid-19 pandemic has recently shown that independent journalism, citizen reporting and open public discourse are indispensable, especially when an unexpected crisis hits. In her eyes, the growing repression of journalists is causing fear and panic. She wants it to stop.
Civil-society activists are affected too. Mensah Thompson is the executive director of the Alliance for Social Equity and Public Accountability. He was charged with spreading false information on Facebook after having accused the head of state and some of his relatives of using the official presidential plane for a shopping trip to the United Kingdom in December 2021. He then asked government institutions for clarification. When the armed forces denied his allegation, he retracted the post and apologised. Nonetheless, he was arrested in early February.
Responses from civil society
The arrests provoked sharp responses from civil- society organisations, including the Ghana Centre for Democratic Development, the Imani Centre for Policy and Education, and the Africa Centre for International Law and Accountability. "We are profoundly worried by the state''s increasing use of prosecutorial and judicial power to punish criminally speech that purportedly wrongly injures or damages the reputation of others or of a public institution," the organisations point out in a joint statement. "The criminal law is being used in the same way that libel laws were used in the 1990s."
John Dramani Mahama, a former president of Ghana, agrees. Addressing the current head of state, he has written: ""I fear that if you do not take immediate action to stop this unfortunate trend, when you leave the office of president in January 2025, freedom of speech and free media will not be counted as part of your legacy." 
Sadibou Marong of the West Africa  bureau of Reporters Without Borders sees things in a similar light. "In a country where arrests of journalists had become the exception, these new cases of detention and violence are very disturbing,"" he says. The international non-governmental organisation wants Ghana to stop stifling public debate and instead prosecute and punish those who assault journalists. 

Dasmani Laary is a journalist in Ghana. 
laarygna@gmail.com