HIV/AIDS
Creating prospects
In 2012 alone, 470,000 people in South Africa became infected with the human immunodeficiency virus (HIV). People need self-respect and prospects for the future if the spread of HIV/AIDS is to be halted. Otherwise, young people especially are all too ready to take major risks.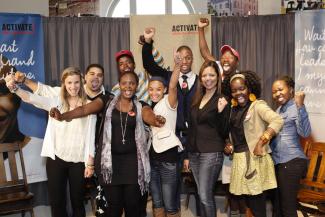 DGMT
Denzil Edgar, a stand-up comedian, makes fun of unsafe sex, but ultimately his message is a serious one: not using a condom is neither relaxed nor cool, but can cost lives. A thrilling music video promotes women's condoms. The message: I love life, I am taking my future into my own hands.

The YouTube channel of the LoveLife organisation offers reports, music videos and personal messages from prominent figures, all tailored to young people. These are intended not only to entertain, but also to educate their audience about one of South Africa's biggest problems: HIV/AIDS. This disease is the cause of a third of all deaths in the country.

Many know about the risk of infection, but nonetheless take that risk. Others are fearful of being tested. Anyone wanting to fight the virus must address different target groups and take the psychological aspects into account. On behalf of the Federal Ministry for Economic Cooperation and Development, KfW Development Bank, as part of an overarching approach, promotes a variety of partners. This includes LoveLife – South Africa's largest national HIV prevention initiative aimed at young people.

Research shows that people are more willing to take risks when they have scarcely any prospects, little money and only a low level of self-respect. That is why LoveLife hopes to reach young people in difficult situations and boost their self-confidence. Nobody should feel they are alone. The organisation addresses young people's concerns and encourages them to play an active part in shaping their lives by various means, not only via the Internet Those who have clear goals in life also have good reasons to avoid becoming infected. Using their smart phone, young people can create their own LoveLife profile. Young people who participate in an online quiz, forward videos or enter competitions are awarded points. Once they have collected sufficient points, they can exchange these for branded clothing, mobile phones and other desirable items. HIV tests or high school graduation are rewarded with an especially high number of points. Thus LoveLife follows the successful model of conditional cash transfers: long-term meaningful action is directly rewarded with benefits.

Initial evaluations show that in fact more young people do want to take an HIV test. However, there are not enough institutions able to assist them and provide advice to those who have become infected. The expansion of HCT (counselling and testing) services is therefore also part of KfW Development Bank's concept. With its support, more than 200 health centres have now already been expanded and equipped. Additional centres are being planned. Mobile units with specially trained staff will reach out to the homeless and prostitutes.

To achieve a broad change in consciousness and reverse the spread of the disease, it is important most of all to mobilise young people. "Activate!" is the name of a programme organised by the DG Murray Trust foundation and supported by KfW. It helps young people across the country to launch their own non-profit projects, many of which are also dedicated to the prevention of HIV. To date, the young people have on their own initiative got almost 70 projects of this kind off the ground in their communities. For instance, in Ulundi youngsters distribute free condoms and sell branded ones at attractive prices. Their message: condoms are cool. Contemporaries are better than adults at communicating this kind of thing. No fewer than 600 young people have thus far participated in the Activate! network. 
Vera Dicke //