World Risk Index 2021
Small island states and Africa are particularly vulnerable
The World Risk Index shows to what an extent a country is likely to suffer natural disasters.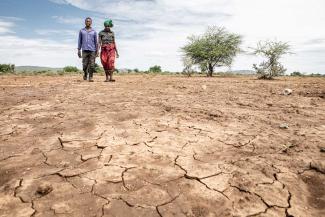 SB
The index is based on broad variety of public data sources and a main feature of the annual World Risk Report series (see main story). Exposure matters. It indicates the probability of earthquakes, storms, floods, droughts and sea-level rise hitting a country. Another factor is vulnerability, which assesses social issues:
How susceptible is a country to suffer damage and how do institutions and social ties help to mitigate the impact?
What capacities are needed to cope better with natural hazards and global heating?  
Which capacities are needed to improve disaster prevention?
Disaster risk thus not only depends on the occurrence of extreme natural events, but just as much on the social, political and economic context. Countries can reduce their risk by taking precautionary measures and strengthening their resilience. Better social protection is crucial.
In the 2021 World Risk Report, ten island states were among the 15 countries with the highest disaster risk worldwide. Livelihoods there are increasingly threatened by rising sea levels. Vanuatu, the Solomon Islands and Tonga topped the list. When comparing world regions, Oceania has the highest disaster risk. Europe has the lowest risk and scores most favourably in all categories.

Monika Hellstern studies International Relations and works as a freelance writer.
euz.editor@dandc.eu