Human rights
Make contraceptives available
All people – including those in rural areas – deserve access to a broad variety of contraceptives so they can choose the method that suits them best. The NGO HEPS-Uganda has been driving progress in two districts.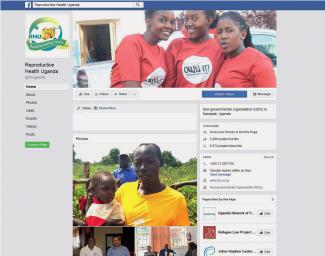 https://www.facebook.com/rhuganda/
Rose Namukose is stretched out on an examination bed of the Kitayunjwa Health Centre III in Uganda's Kamuli district. She is there to get a contraceptive implant. Two health workers put on gloves. One cleans the spot for the insertion and the other prepares the needle to give Rose a local anaesthetic. Visibly scared of the jab, Rose looks away while a midwife explains the procedure about to be performed. A few minutes later, Rose, who is HIV positive and has a three year old child, walks out of the centre and returns to her home five miles away. She now has one thing less to worry about  – she will not have a pregnancy she is not ready for.
Rose is one of the more than 1,000 clients who were sensitised by the non-governmental Coalition for Health Promotion and Social Development (HEPS-Uganda) about using family planning. HEPS-Uganda demands that women get a full, free and informed choice of method.
With support from the Brussels-based Reproductive Health Supplies Coalition (RHSC), an international multi-stakeholder network, HEPS-Uganda ran a first 18-month project in 2015 and 2016. The goals were to ensure that 16 public health facilities in the  Mbarara and Kamuli districs had sufficient stocks of relevant family-planning commodities and raise community awareness of contraceptive choices.
HEPS-Uganda partnered with radio stations and also used text messaging and web apps to conduct outreach. A community score card (CSC) was done to assess family-planning services. The term stands for an interactive way of making the staff of public agencies accountable to the people they are supposed to serve. CSCs help to assess, plan, monitor and evaluate services.
More than 200 persons from relevant agencies and local communities took part. On this basis, community action plans were designed and implemented. Ever since, HEPS-Uganda has been using the evidence generated to promote the cause, including among actors at the national level. 
The project in the districts of Kamuli and Mbarara revealed some of the major barriers to effective family planning. They include:
the lack of contraceptive choice,
inadequate skills of health workers,
lack of skilled staff,
fear of side effects,
lacking male involvement, and
various myths and misconceptions about family planning.
The project showed that it is possible to rise to these challenges. Couples need access to the contraceptive that serves their needs best. A broad range of contraceptives must be made available including: 
pills,
male and female condoms,
diaphragms and cervical caps,
intrauterine devices,
contraceptive implants, sponges, ­injections and patches,
spermicides,
vaginal rings and
permanent male and female sterilisation.
When the project ended, all health centres in Mbarara district offered at least five different methods. None had provided options before the project started. In Kamuli district, the share of health centres that offered at least three methods rose from 57 % to 71 %. Overall, the incidence of contraceptives being out of stock was reduced by a quarter.
Awareness raising, moreover, helped to dispel distorted ideas. Magidu Mususwa, a client of the Kitayunjwa Health Centre III, says he used to believe that people who used contraceptives were likely to have disabled children, so he stopped his wife from using them. After being properly informed by a community monitor, however, he changed his mind and now supports contraceptive use. He adds: "I have also encouraged at least two men so far to support family planning."
In the two districts concerned, the situation has improved. It was important to involve many different stakeholders, including health workers, district offices, international partners and, of course, the people who want contraceptives.
Relevant non-governmental agencies included Marie Stopes International, Cordaid, BUKO Pharma-Kampagne and Reproductive Health Uganda (RHU), which is affiliated to Planned Parenthood in the USA. They helped to ensure that important goods did not run out at the health centres. On request, moreover, Marie Stopes seconded a training midwife at the Nankandulo Health Centre IV, where, for two months, she mentored staff on how to administer long-term methods.
The health centres have changed their procurement policies. Their staff now use regular meetings with government officials to urge the national pharma supply system to provide more family-planning commodities. The sad truth is that choice still tends to be constrained by a limited number of family-planning methods available in public health facilities. Typically, long-term methods remain unavailable, unless non-governmental development partners lend support.
As Uganda's government acknowledges, long-acting reversible contraception and permanent methods afford numerous benefits to individuals and health-care systems. These methods are safe and highly effective. They are suitable for use for all categories of clients, for a variety of reproductive health intentions. They are very cost efficient and reduce demand on health-care systems because they do not require continual resupply and have low discontinuation rates.
Lacking funds, however, the government is only providing commodities for short-term methods. Moreover, staff would need to be trained to administer the long-term methods.
Uganda's Ministry of Health appreciates that family planning is a cost-effective means to lower maternal mortality rates because it reduces the risk of unwanted pregnancy as well as the incidence of abortions. Nonetheless, many people's family-planning needs remain unmet in the country. Nearly a quarter of all women of reproductive age would like to delay, space or stop having children, but they are not given the choices to do so.
In both project districts, the provision of full choice to family-planning users remains a key challenge. All too often, the health centres still lack the commodities for long-term methods. The implication is that local people are being denied their right to plan their families – and that unwanted pregnancies cause unnecessary suffering.

Eric Wakabi is HEPS-Uganda's communication officer.
ewakabi@heps.or.ug
Joan Esther Kilande is programme manager at HEPS-Uganda.
jkilande@heps.or.ug