LGBT rights
Same-sex marriage worldwide
Around a dozen countries have the same-sex marriage legally enshrined. The first state worldwide to make this step was the Netherlands in the year 2001. Belgium followed in 2003 and Canada and Spain in 2005.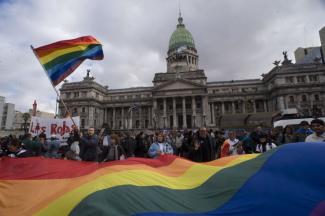 Gopicture-alliance /dpa
South Africa was the first non-European country to introduce gay marriage in 2006, and Ireland became the first country to hold a popular referendum on the issue in 2015, which resulted in a big majority in favour of the option. In 2015, the Supreme Court of the United States legalised same-sex marriage after a long legal battle.
In Argentina, the right to share the health insurance of the partner, the right of adoption and the possibility to inherit belongings were the central demands of the activists. All this was reached by legalising same-sex marriage. Argentina is thus placed internationally at the top of the list of countries with a legislation that acknowledges sexual diversity. It was the tenth country globally and the first in Latin America to issue such a law.
Other states – for instance Germany, Italy and Israel – allow registered civil unions between persons of the same sex. However, homosexual couples are not allowed to adopt children.
On the downside, homosexual acts are still illegal in 78 countries. Transpersons, transvestites and transsexuals are prosecuted as well. In Nigeria, for example, homosexual people are socially isolated and are being incarcerated. Iran has even executed people for the "crime" of homosexuality. Russia under President Vladimir Putin is taking a homophobic stance.