Child labour
Stolen childhood
Many families in Syria have lost their livelihoods in seven years of civil strife. Millions are now below the poverty line. Hundreds of thousands of children are doing physically demanding jobs. Experts reckon that 49 % of the children aged between 10 to 16 years are working.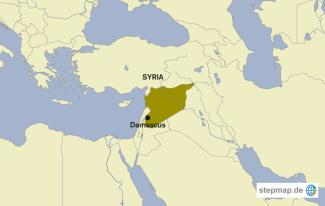 stepmap.de
In the Syrian capital Damascus, 12-year-old Ibrahem is not at school. He is at work. The young boy toils in an ironsmith workshop. He needs to earn money so his widowed mother and little brothers and sister can live.Two years ago, Ibrahem's father was killed by a mortar shell. After his death, Ibrahem dropped out of school and started working for the ironsmith. His daily work leaves him no free time, neither to see friends nor to go about his favourite hobby – playing football.
"I'm only 12 years old, but I feel that I'm very old," the young boy says. "I am responsible for my whole family. If I don't work every day, they will have nothing to eat."
According to UNICEF statistics, over a million children have lost one or both of their parents since Syria's violent conflict began in 2011. Mohammad is one of them. A sniper killed his father in Eastern Al Ghouta. At the time, Mohammad was nine years old. He had to leave school and join the same ironsmith workshop where Ibrahem works. Mohammed too must help his mother to bear the permanently rising costs of living.
Mohammad earns the equivalent of almost two dollars per day. They are spent on supporting the family. Last Christmas, he got one piece of new clothing.
The hard circumstances of war and the lack of decent working opportunities are pushing children to do inappropriate and extremely dangerous jobs. The number of working children has increased dramatically in manufacturing and oil refineries. Some children beg, others recycle plastic waste or are involved in smuggling. Some boys are recruited by armed groups.
Mustafa is a 14-year-old boy who works in one of the biggest factories in Damascus. He faces everyday hazards of being injured. His job consists of lifting heavy items from one machine to another.

"When I started working here, I went through a very hard time," he says, "but I had to endure and make a living. Hopefully, one day I may have a better future." He is concerned about his disabled brother: "I feel sorry every time I look at him. My father and I are working so we can afford to buy him a wheelchair."
Syria's humanitarian crisis has turned these boys into small men. Their childhood, hobbies, and even their country have been stolen from them, but they still hold on to their dreams. Ibrahem wants to go back to school; Mohammad wants to have a better life, and Mustafa wants to see his brother moving around again.

Nawar Almir Ali is a journalist and lives in Damascus, Syria.
nawaralmir@gmail.com