Living with nature
Bolivia's extraordinary biodiversity is under threat
Bolivia has an extraordinary amount of biodiversity. A good fourth of the country's territory is dedicated to protecting it. Yet numerous human activities are posing a threat.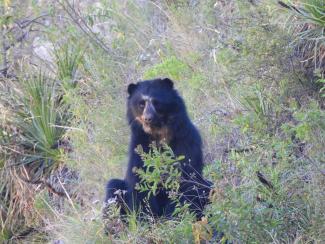 Tomás Calahuma
Bolivia is one of the 15 most biologically diverse countries on Earth. It is home to a multitude of species of birds, mammals, butterflies, amphibians and freshwater fish. There are a lot of tubers, grains, vegetables, fruit trees and other plants as well. According to the Bolivian Ministry of Environment and Water, the South American country is home to about 40 % of the world's biodiversity, which includes genetic, ecosystem and species diversity. Bolivia's ecosystems extend from the highland of the Andes to the tropical rainforest in the Amazon region and encompass deserts, steppes and various types of forest.
To preserve this wealth, Bolivia has established a total of 137 protected areas since the last century, including 22 at national level. Together they make up slightly more than a fourth of the country's territory. The stated goal is to stop deforestation and the exploitation of natural resources in these areas.
Their protection status varies. For example, in national parks, all resource use and infrastructure measures are prohibited, whereas individual activities like scientific research, ecotourism and environmental education are allowed. Indigenous groups that have long resided in the area may also practice their subsistence farming if they have a permit. Conversely, in other protected areas, like the ANMI (Área Natural de Manejo Integrado – Integrated Management Natural Area), farmers are allowed to produce above subsistence level.
According to estimates, a total of approximately 150,000 people legally reside in Bolivia's protected areas. Most of them are indigenous people, who use natural resources in traditional, sustainable ways. They live in harmony with nature and pose no threat to biodiversity.
The threat comes from elsewhere. Among the numerous, well-documented dangers to the natural resources and biodiversity of Bolivia's protected areas are poaching, the illegal trade of plants and animals, drug trade, land grabbing and logging. Other threats include the extraction of resources like oil, natural gas or gold.
These questions reveal a contradiction in Bolivian policy, which on the one hand considers the protection of the earth important and has formulated numerous laws to this end, but on the other hand opens many loopholes for logging and slash-and-burn agriculture, for example, and directly or indirectly supports the expansion of agricultural land. In 2015, the former government under President Evo Morales even issued a decree allowing for the extraction of fossil fuels in protected areas. Those in question are primarily oil and natural gas. The decree remains in effect.
The traditional practice of slash-and-burn
Seven of the 22 national protected areas are in southern Bolivia. Both nationally and internationally, they are far less known than the protected areas in the Amazon region in the country's north and east, and they receive little state funding for their administration.
The needs of the residents in zones where human intervention is permitted are also largely ignored. "Forgotten by the authorities, we live without opportunities for development and without the ability to sell our products," says Mauro Castillo from the village of Potreros, which is part of the ANMI Serranía del Iñao. "They just tell us that we are not allowed to cut down the forest." The 2631-square kilometres protected area, which also comprises a large national park, is located in the Andes at up to 2800 meters above sea level in the Chuquisaca Department.
Juana Carballo, who lives in the same village, adds: "Even though it's remote, it's lovely to live here. There is a large variety of trees and animals, and you can grow anything. Our fields are very steep, though, and we can only farm them for three or four years. After that they lose their produc­tivity, and we have to slash-and-burn new areas."
This traditional practice is one of the main reasons why protected areas are losing their environmental functions. More and more families are moving here and tilling fields on the slopes of the mountains. As soon as they lose their fertility through cultivation and erosion, farmers clear new areas.
Another factor is the free-range and pasture grazing of livestock. The animals hamper the natural regeneration of the grassland and encroach into areas where wild animals live. Their habitat then disappears, causing them to attack the livestock. This leads to conflicts between rangers, whose job it is to protect the wild animals, and residents, who see a threat to their livestock.
Species are disappearing
Tomás Calahuma, the head ranger in the ANMI El Palmar in Presto, which is also located in Chuquisaca, says: "Due to the expansion of agricultural areas, animals like the spectacled bear are becoming isolated and are no longer able to find food." Recently a spectacled bear appeared near a human settlement. The species is endemic to the tropical Andes and is listed as vulnerable on the Red List of the International Union for Conservation of Nature and Natural Resources (IUCN).
"It cannot be denied that trade and logging are taking place in this area and are leading to the disappearance of biodiversity," says environmental activist Alexis Montellano. "For example, this year in El Palmar, we realised that an area is shrinking that is home to a species of palm that only grows in this region. And in the Iñao national park, there are always slash-and-burn operations that become forest fires." Montellano also bemoans the lack of annual monitoring reports. "The strategies to protect local biodiversity must be rethought," he urges. Civil society is called on to step in here as well.
The problem is not restricted to Bo­livia. "All around the world, the expansion of agricultural areas has led to a loss of biodiversity," says Montellano, "to the point that domestic species and wild animals are disappearing entirely." 
He points out that crops and livestock nowdays make up the majority of all living things and adds: "Wild plants and animals are under threat worldwide." Experts assume that numerous species that are now going extinct have never even been discovered – including in Bolivia, where many areas are unexplored.
Zulma Martínez Vargas of the Fundación Acción Cultural Loyola coordinates the project "Culture of peace and dialogue to promote the good life in southern Bolivia". The project receives support from the World Peace Service (Weltfriedensdienst – WFD) as part of its Civil Peace Service programme (Ziviler Friedensdienst – ZFD).
marromer21@gmail.com
Katja Dombrowski, a former editor of E+Z/D+C, is currently a media specialist for the WFD in southern Bolivia.
dombrowski@wfd.de