Price surges
Inflation's unwelcome return
The spectre of inflation is back in Brazil. The country's inflation rate is still far from the dizzying heights of 1990-1994, but the rapid surge in prices is nonetheless alarming.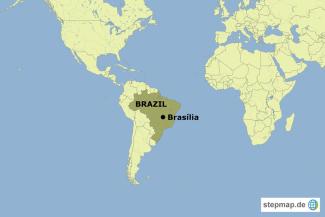 stepmap.de
According to Brazil's statistics agency IBGE (Instituto Brasileiro de Geografia e Estatistica), consumer prices – particularly for food and fuel – were nearly 10 % higher in August 2021 than they were in August 2020. That was the largest price surge in two decades and it came after a nine percent increase in July.
Part of the reason for the increase is that investors are uncertain about the government's economic policy; their reduced investments have led to a fall in the value of the currency. In addition, a continuing drought is driving up the price of food and the cost of hydroelectric power. Economy Minister Paulo Guedes says the government is working to control inflation and that Brazil should end the year with inflation of 7.5 % to eight percent. That is still more than twice the inflation rate of recent years.
All of Brazil's states have seen rising prices for basic foods. Brasília, the country's capital, has seen a 29 % increase in food prices, one of the largest increases so far. Prices of black beans have risen by 51 %, meat prices have increased by 30 %, milk prices rose by 20 % and rice by 70 %.
Brazil's people, already hard hit by the Coronavirus pandemic, are making adjustments in daily life.
Many thousands of Brazilians have stopped buying meat and instead buy bones that have some meat left on them. Consumers are substituting sausages for meat and fresh fruits for biscuits.
"I have not eaten meat for a long time," says Mariana Ribas, a 33-year-old receptionist. "Before the pandemic I paid about 40 reais (about € 6.3) for a kilo of meat. Today the price is so high that I eat eggs instead. Even chicken has become unaffordable."
Energy prices also have been soaring. The National Electric Energy Agency has added a surcharge that increases monthly electricity bills by 50 %. It says the reason is an ongoing drought, which has lowered water levels in reservoirs and thereby reduced operations of hydroelectric plants. The surcharge will be in effect until 30 April 2022.
The price of cooking gas has risen dramatically. A cylinder of cooking gas that used to cost € 11 now goes for € 21. Many people responded by switching to wood-burning stoves or trying to use other fuels in their gas cookers – sometimes with tragic consequences. Recently a family was seriously burnt while using alcohol in a stove designed for use with cooking gas. Family members had to be hospitalised for 20 days due to skin injuries. One family member died of her injuries.
Meanwhile, prices for gasoline and diesel have risen by 30 % in recent months, driven by global oil prices. These prices also are affected by the depreciation of Brazil's currency relative to the US dollar – the currency used to buy oil internationally.
Substituting cheaper foods and cutting down fuel use may not be enough to keep poor families afloat. According to a recent Oxfam report, the percentage of Brazilians living in extreme poverty has nearly tripled, from 4.5 % to 12.8.
The government has distributed funds to poor Brazilians who have lost their jobs due to the Coronavirus pandemic. In 2021 the amount of aid has been reduced to  21 per month for a person who lives alone and €53 per month for families. "This is very little, considering the prices in the markets," Ribas says.

Thuany Rodrigues is a journalist in Brazil.
thuanyrodriigues@gmail.com