Street children
From garbage scavenger to chef
Cambodian street children face a number of issues including drug use and labour exploitation. Families and children at risk need more support.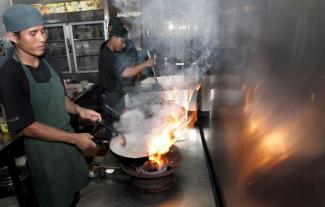 Mak Remissa/picture-alliance/dpa
According to official data, the number of homeless people in Cambodia is 5,188. Out of this total, 1,745 are said to be women and 715 children under the age of 18 years, including 280 girls. The real numbers must be much higher.
For various reasons, Cambodian children opt for life on the streets. Some have no parents, others are neglected by their extended families, yet others suffer domestic violence. Typically, street children come from poor families, and migration often compounds the problems.
"Children living on the street are at risk of violence, sexual abuse, trafficking, exploitation and dangerous labour," says Bunly Meas, the spokesperson for UNICEF in Cambodia. "They are also exposed to drug use, unsafe sexual activities and gang crime." The UN Children's Fund is working with several non-governmental organisations (NGOs) to help homeless Cambodian children.
Mith Samlanh – which means "Friends" in English – is one of these NGOs. It was established in 1994, works with marginalised children and youth and reaches out to their families and communities. Pin Sokhom, who works as a programme coordinator for Mith Samlanh, points out that not all street children are homeless (see background box): "Some parents use their children to beg for money or to sell things. Some people, who are not the parents, may also use children to make money on the street." Mith Samlanh tries to convince parents to act responsibly and stop abusing the children.

New life after drug use
Street children who have no other options can find a temporary home at one of Mith Samlanh's four centres in Cambodia. Kek, 23, is now learning how to cook thanks to the NGO's vocational-training programme. The aim is to educate former street children so that they will eventually become self-reliant.
Kek used to stay on the street. He worked as a garbage scavenger, sniffed glue and used drugs. He says he started living on the street at the age of eight when his mother passed away, leaving his father to raise six children by himself. But the father, who is disabled, couldn't work to earn money.
"I begged for food and water," Kek reports. "And I stole some money to buy glue for sniffing." After years on the streets, he was taken in by a child centre. He stopped sniffing and was happy to receive an education. He lived there for one year. Unfortunately, the centre closed down, he says, so he returned to the streets and started using glue as a narcotic again.
At a later point, Kek was introduced to Mit Samlanh and taught sewing. He only stayed at the NGO facility for around four months, and was then employed by a garment factory in Phnom Penh. The job earned him money and he found new friends, but eventually, Kek became addicted to drugs and lost his job.
Last year, he returned to Mith Samlanh and spent three months in rehabilitation from the drug addiction. "Now I have a new life," Kek says. He is now learning English and computer skills on top of his education as cook. He will finish his schooling next year.
According to Mith Samlanh coordinator Pin Sokhom, drug use is still a critical issue among street children in Phnom Penh. He adds that some of the children concerned are unable to adapt to life at the centre. "They need freedom, and at the centre, we have rules about what they should do and must not do," he explains. "So some children leave the centre."

Building a future
Since June 2014, Phnom Penh municipal government has taken action to sweep the capital's streets clean of beggars, street children and homeless people. The Cambodian government has also adopted an action plan for the years 2017 to 2021 to prevent violence against children – and to respond to incidents of violence. The evidence shows that street children are particularly vulnerable to violence.
NGOs play a key role in helping the street children. According to its annual report, Mith Samlanh worked with more than 9,300 children and 5,100 children's guardians in 2016. Children were offered awareness raising, education and job opportunities. First the children must be brought to a safe place, Sokhom says, and then they can build their future. Apart from cooking and sewing, Mith Samlanh offers vocational training in electricity, motor repairing, hairdressing, cosmetics and steel working. Young children are re-integrated into state-run schools after getting some basic education at the Mith Samlanh school.
The outreach to parents focuses on enabling them to earn some income. If they make enough money, they need not send their children to beg or sell small merchandise on the streets.
UNICEF has been funding Mith Samlanh's street children services through the Partnership Programme for the Protection of Children (3PC). This tripartite outfit includes the national government, UNICEF and NGOs. Every year, 3PC provides child-protection services to about 8,000 vulnerable children, including street children. On the agenda are basic medical care, literacy classes, counselling and life skills. Knowledge concerning substance abuse and reproductive health is vitally important.
UNICEF's Bunly Meas says: "The programme provides immediate and long-term assistance to vulnerable children who are at risk of – or exposed to – violence." All too often, children are separated from their families, he adds. "The range of services covers basic needs such as food and housing, medical and educational support, but also harm reduction from drugs and alcohol, as well as family reunification and alternative care placement when required."
In his eyes, more investment in social services is needed since families and children who are at risk should be supported. "The streets are clearly no place for children. However, taking children off the streets and placing them in institutions is not the solution." Children should only be separated from their families in extreme circumstances, he argues, since family and community-based solutions normally result in more appropriate care for children.

Sun Narin is a Cambodian journalist and lives in Phnom Penh.
snnarin@gmail.com

Links
Mith Samlanh:
http://www.mithsamlanh.org
Partnership Programme for the Protection of Children:
http://3pc-cambodia.org