Latin America
Chile's next president faces huge challenges
Gabriel Boric, Chile's new president, must rise to daunting expectations. On the one hand, voters want fundamental reform, on the other, he needs to ensure stability. He's trying to do both.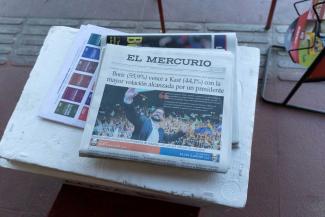 picture alliance / ZUMAPRESS.com / Matias Basualdo
In Chile, the public is keenly reading the signals being sent by the president-elect, 35-year-old leftist Gabriel Boric. The new government will take office on 11 March. It is worth recalling how Boric, the former student leader who became Chile's youngest-ever president, became a key figure in the nation's political renewal.
For 30 years after the end of the dictatorship of Augusto Pinochet (1973-1990), Chile kept following market-orthodox policies. This rigid approach was taken by the military regime, and it became anchored in institutions and even the constitution. In October 2019, powerful protests erupted, denouncing the economic and social impact of those policies. People demanded end to "30 years of abuse of power". Masses rallied for a more egalitarian social order.
The 2019 uprising led to an unprecedented process of constitutional change. A new constituent assembly was elected (see my assessment on www.dandc.eu). The established centre-left and right-wing parties saw their popular support fall to unprecedented lows. Quite clearly, a majority of citizens wanted to start anew
In view of the traditional political forces' weakness, two improbable candidates became the main presidential contenders in the 2021 election:
the far-right José Antonio Kast, who represented a coalition of ultraconservatives and nationalists, and
Boric, who was backed by an alliance of left-wing parties including the Communists.
The foreign press viewed these blocs as polar opposites. The truth was more nuanced: in a bid for centrist voters, Boric showed more courage and flexibility than his opponent. Boric's moderate tone proved decisive, leading to his 55.9 % victory in the second-round of voting in December.
Since his victory, Boric has signalled that he aims for a finely tuned combination of renewal and moderation. His cabinet choices are interesting – and telling. Of 24 ministers, 14 are women, eight are independents and nine come from outside the capital, a novelty in centralised Chile.
Among the women, Izkia Siches stands out (35). She is a doctor and former president of Chile's Medical Association. She is also of Aymara indigenous descent. She will be the first female minister of the interior and thus be in charge of public security. 
Camila Vallejo (33) will be the governments spokesperson. She is a former leader of rebellious student movement that demanded social progress in 2011. Antonia Urrejola (53), is the former president of the Inter-American Commission on Human Rights and will become the foreign minister. Maya Fernández (50) will be the defence minister. She is a socialist and the granddaughter of former president Salvador Allende, who died during Pinochet's military coup. He committed suicide when the presidential palace was bombed.
In a clear nod to moderation, Boric chose Mario Marcel (62) as the finance minister. He was until recently president of Chile's Central Bank and is internationally respected. He is independent, but has been associated with previous centre-left governments. For some, however, he represents a return to the market orthodoxy that plunged Chile into social turmoil. Many others, however, consider his appointment is a welcome sign of stability.
Boric says his priorities for the first months of his presidency will be economic recovery, managing the pandemic and protecting the constitutional reforms. The constituent assembly is expected to produce a new Magna Carta between July and September of this year. The document will then be submitted to a plebiscite with compulsory voting.
A rejection of the new constitution and a consequent return to the dictatorship's constitution would mean dramatic failure for Boric. His goal is to build the new Chile. Some analysts put it this way: He wants to be the last president of the old era and the first of the new era.

Javier A. Cisterna Figueroa is a journalist based in Concepción, Chile.
cisternafigueroa@gmail.com