Service
In Zambia Catholic nuns provide health care
Christian nuns have set up health facilities to offer much needed care to patients in various parts of the country. Among others, they treat stigmatised AIDS patients in a mindful way.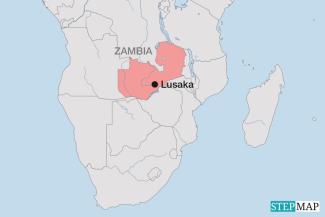 Stepmap
The Sisters of the Holy Cross, a Roman Catholic congregation of females, set up and manages a specialised health facility called "Our Lady health facility." The centre mainly offers care to HIV/AIDS patients. On the brink of death, many people living with HIV/AIDS in Zambia prefer to seek refuge there due to its unique initiative in the access of antiretroviral drugs.
Mwape Chola, a patient living with HIV/AIDS, says: "I would like to commend staff at this medical facility for the distinctive initiative on access to antiretroviral drugs in our community because I would be dead by now!"
The Catholic nuns discovered that stigmatisation of people suffering from HIV/AIDS was a key hindrance to their access to medical services. They therefore came up with an innovation to offer health-care services in environments where the patients would feel less judged by society.
"When I first came here, I discovered that most patients from other towns came to get Antiretrovirals (ARVs) but local people in this community living with HIV/AIDS used to avoid coming due to stigma," Sr. Adelina Adao, an assistant administrator at Our Lady Clinic, says.
"That's why we came up with a strategy to establish three 'community posts' within local markets where our staff could easily engage and attract clients back to our ART services," she adds. Sr. Adao says that the community posts have indeed revolutionised HIV/AIDS patients' access to ARVs therapy without facing stigma since each post is manned by a clinician and a counsellor who attends to their concerns in confidence. The location of the post in a market environment as opposed to a hospital also makes it more receptive to people, surprisingly.
Zambia still has a high prevalence for HIV/AIDS. According to the Zambia Population‐based HIV/AIDS Impact Assessment Report (ZAMPHIA 2021), HIV prevalence was markedly higher among women than men in each age group from ages 20–24 years through 35‐39 years and among 45‐49 years.
Sadly, Zambia is yet to meet global testing and treatment targets among adolescent girls and young women living with HIV, particularly due to stigma in the health facility setting. The Catholic nuns are actively changing this.
The clinic offers other services including a general clinic, outpatient department, admissions, ART services, and ultrasound scanning, amongst others. This is in line with their slogan, "Holistic health care for all."
Anita Mbewe, a mother of two, is one of the many other patients who have accessed the broad range of health services offered by the clinic. "I am so grateful to the midwives at this clinic where I had a successful operation," she says.
Suezen Tembo, a Lusaka based teacher, narrates how she recently survived a protracted stomach infection thanks to the swift intervention from the urologists at Our Lady health centre. "The health staff are simply the best in our community because my condition might have worsened had it not been for the quality health-care treatment I got here," she says.
Derrick Silimina is a freelance journalist based in Lusaka.
derricksilimina@gmail.com