Sanitation
Clean water, clean contracts
Malawi's water crisis – originally caused by droughts, flooding and population growth – is being worsened by rampant corruption in awarding contracts to upgrade sanitation systems.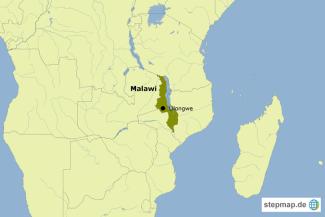 stepmap.de
Despite decades of clean water efforts, one-third of Malawians still lack access to clean water, and more than half lack decent toilets, according to WaterAid, a UK-registered charity. Some 60% of the population dig boreholes in search of water and 8% drink from unprotected wells, according to Malawi's Statistics Office.
The government's two decades of efforts to bring clean water to all have stalled, partly due to the effects of climate change, which in turn brought flooding and droughts in different parts of the country. But the failure can also be traced to corruption in awarding contracts for upgrading water systems.
Critics of government efforts say that too often, contracts are awarded to politically connected firms that then fail to carry out the work or do work of poor quality. Substandard water networks cause leakages and floods that expose millions of people to fetid water and waterborne diseases. "
More than 3,000 children die every year in Malawi due to dirty drinking water and poor sanitation," says Robert Kampala, WaterAid's regional director for southern Africa. The corruption that is often behind failed water systems "must be dealt with", he adds. "Corruption retards development and impacts social and economic development."
Corruption was a focus of the country's most recent elections, in June 2020, which saw the defeat of former president Peter Mutharika. The new president, Lazarus Chakwera, pledged to "clean the rubble and drain the swamps" of corruption. He says official fraud and misconduct cost taxpayers 1.3 trillion Malawian Kwacha (€1.45 billion) during the six years of the Mutharika administration.
Some of the criticism has centred on Sawa Group, an engineering and construction company that moved its headquarters in 2015 from Malawi's capital Lilongwe to Dubai in the United Arab Emirates. In Rumphi district in the north of the country, for example, the local Water Users Association (WUA) accuses Sawa of substandard work on local water and sanitation systems.
WUA senior member Aaron Mughogho says that soon after the company initially said the work was completed, new water pipes were "either washed away or burst due to water pressure," leaving the community without water. The company denies the charge and rejects all accusations of corruption. It says the Rumphi project is not finished yet and that any defects will be fixed.
Another company that has come under fire is the Foundation for Irrigation and Sustainable Development (FISD) Ltd, a water and energy systems provider that belongs to a non-profit organisation of the same name. In November 2020, police arrested four company directors on charges of fraud against the government. The charges relate to a 2.4 billion Kwacha (€2.7 million) contract to build water systems in Ntcheu district in central Malawi and Phalombe district in the south.
FISD Ltd, like Sawa Group, denies the corruption allegations. Nonetheless, after taking office President Chakwera cancelled many water contracts, saying they were awarded improperly. It remains to be seen whether the new administration will "clean the rubble and drain the swamps".

Raphael Mweninguwe is a freelance journalist based in Malawi.
raphael.mweninguwe@hotmail.com